Rare Subtropical Storm Forms Off the Coast of Chile
Rare Subtropical Storm Forms Off the Coast of Chile
This past week, something rather unusual happened off the coast of Chile: a rare subtropical storm formed in the Southeast Pacific Ocean. Cyclone season is winding down in the Southwest Pacific near Australia where it is common for several tropical storms to form every year, but in the Southeast Pacific tropical storms are unheard of. This particular storm is a subtropical storm, which is a sort of a hybrid between a tropical cyclone like a hurricane, which gets it energy primarily from the condensation of humid air that forms over warm ocean waters, and an extratropical storm, which has a cold core, fronts and an upper-level low pressure area. Tropical cyclones generally require water temperatures of around 26.5 C (~80 F) to form; subtropical storms can form over cooler water but usually require about 20 C (68 F). This storm formed in water around 18 C (64.4 F). Subtropical storms can generate instability over cooler ocean temperatures due to their colder air aloft. This can lead to shower and thunderstorm development, which releases heat into the storm and helps to fuel its circulation.
GPM was fortunate to capture this first image of the storm at 21:16 UTC (5:16 pm EDT) on the 5th of May. The image shows instantaneous rain rates derived from GPM's GMI microwave imager in the outer swath and dual-frequency precipitation radar or DPR in the inner swath overlaid on enhanced VIS/IR data from the GOES-East satellite. GPM shows that the storm has a highly asymmetric rainfall pattern with two prominent rain bands wrapping around an open center. Unlike tropical storms where the stronger winds tend to be concentrated near the center, subtropical storms tend to have a relatively broad wind field with maximum winds well away from the center. At the time of image, maximum rain rates within the DPR swath were on the order of 18 mm/hr, while the tallest storms tops were near 9 km.
Just over 3 days later, GPM again passed over the storm. This second image was taken at 05:57 UTC (1:57 am EDT) on the 9th of May. The storm has moved north-northwest during this time and is now located about 180 miles (~290 km) north of Robinson Crusoe Island and about 420 miles (~670 km) due west of the coast of Chile. Overall the storm still has a well-defined cyclonic circulation with good curvature evident in the rain and cloud bands, but it is now much smaller with most of rain occurring north and northwest of the center.
This 3-D view of the rare subtropical cyclone's precipitation was made possible with GPM's Radar (DPR Ku Band).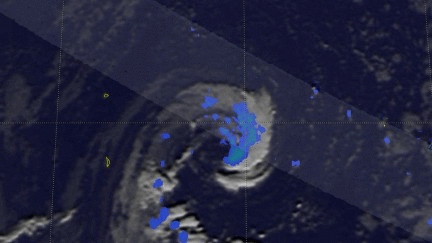 Images produced by Hal Pierce (SSAI/NASA GSFC) and caption by Stephen Lang (SSAI/NASA GSFC)