Precipitation Processing System (PPS) servers will be down for extended maintenance from Tuesday, September 22nd through Thursday September 24th. During this time the PPS websites, the PMM Publisher API, and the GPM research data server (arthurhou) will be unavailable. The GPM near real-time server (jsimpson) and satellite data collection will not be affected.
Click here to learn more.
Severe Midwest Storms Probed By GPM Satellite
Severe Midwest Storms Probed By GPM Satellite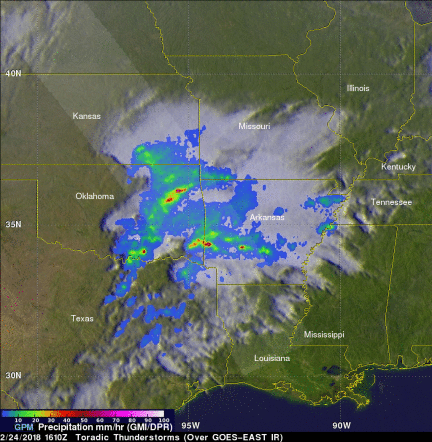 The GPM core observatory satellite flew over stormy weather in the Midwest on Saturday February 24, 2018 at 1610 UTC (10:10 AM CST). Floods and very severe thunderstorms were developing with this slow moving storm complex. Later in the day tornadoes within these storms caused destruction and injuries in the states of Kentucky, Arkansas, Missouri and Tennessee. Tornadoes and flooding were blamed for at least four fatalities. Kentucky was particularly hard hit with Saturday evening tornadoes moving through southwestern Kentucky causing multiple injuries and at least three deaths.

GPM's microwave Imager (GMI) and Dual Frequency Precipitation Radar (DPR) instruments were able to peer inside clouds revealing the nature of precipitation within the storms. The location and intensity of precipitation inside the storms was measured as the satellite flew above. The area scanned by GPM's radar (DPR Ku Band) is shown in lighter shades crossing through the center of the storm complex. The satellite's microwave Imager (GMI) uncloaked storms over western Arkansas that were dropping rain at a rate of over 2.6 inches (67 mm) per hour.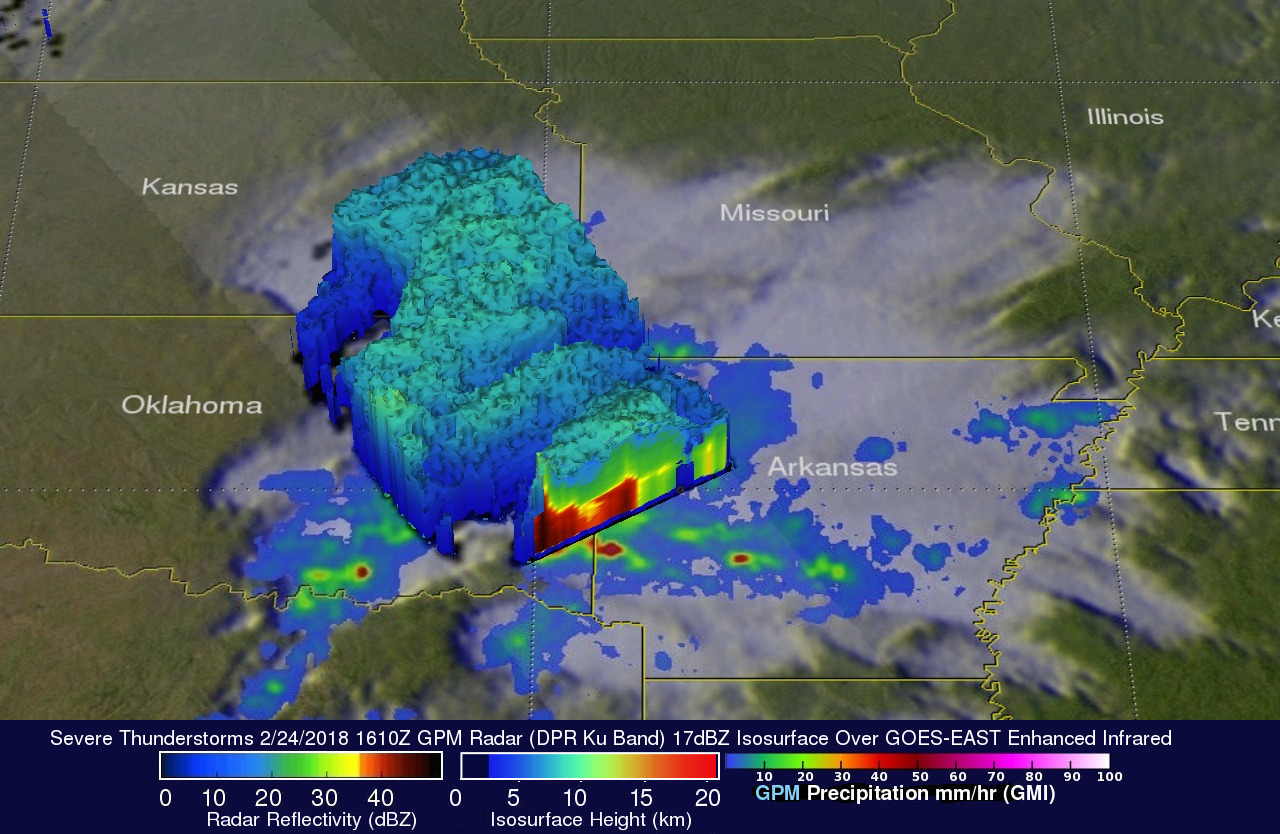 A 3-D cross-section view of the precipitation within storms over the Midwest was made possible by using Radar data (DPR Ku Band) received by the GPM core observatory satellite. This 3-D DPR slice through severe storms provides a look at the intensity within heavy downpours that were returning strong radar echoes to the satellite. Storm tops heights in a few powerful storms over southwestern Arkansas were found by GPM's radar to reach altitudes above 7.7 miles (12.4 km).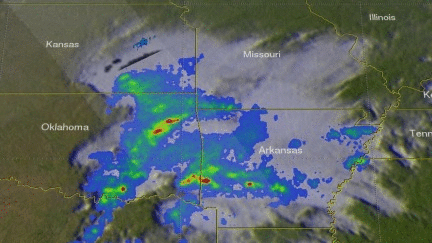 Images and caption by Hal Pierce (SSAI/NASA GSFC)