Southern Hemisphere Tropical Cyclone Abela Viewed By GPM
Tropical cyclone 01S (Abela) formed in the South Indian Ocean on July 16, 2016. Abela was the first tropical Cyclone to form in July over the South Indian Ocean since 2007 so it is a little unusual. The GPM core observatory satellite recently had two good views of Abela. GPM saw the newly formed tropical cyclone on Jul 16, 2016 at 2216 UTC. Precipitation data collected by GPM's Microwave Imager (GMI) and Dual-Frequency Precipitation Radar (DPR) instruments showed that ABELA contained a large area of rainfall on July 16, 2016. Then again on July 18, 2016 at 2206 the satellite passed above after tropical cyclone Abela had reached it's peak intensity with winds of about 50 kts (58 mph).
3-D slices through radar precipitation were made possible with GPM's radar (DPR Ku Band). Vertical wind shear was already starting to affect the tropical cyclone on July 18, 2016. It was revealed that the low level center of circulation was exposed and convective storms were pushed to the southeast. Some of the tops of these still powerful convective storms were shown by GPM's DPR to be reaching heights of over 13.6 km(8.4 miles).
Abela is now dissipating and may be a tropical depression with winds of about 30 kts (35 mph) when it hits northeastern Madagascar on July 20,2016.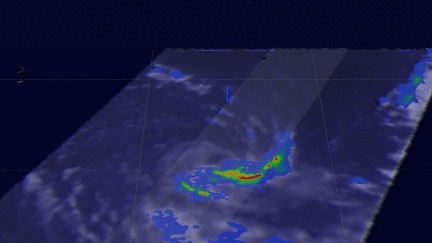 Images and caption by Hal Pierce (SSAI/NASA GSFC)