Southern Texas' Flooding Rainfall Examined With IMERG
Southern Texas' Flooding Rainfall Examined With IMERG
Extremely heavy rainfall caused a flash flood emergency over southern Texas this week. More than 15 inches (381 mm) of rain fell in Hidalgo County, Texas since Tuesday June 19, 2018. The Governor of Texas declared a state of emergency for six counties in South Texas Thursday afternoon. Heavy rain had ended Friday morning but occasional showers were still occurring over southern Texas. At 4:28 AM CDT Friday June 22, 2018 the National Weather Service in Brownsville, Texas issued a "Flood Warning for Urban Areas and Small Streams in... Southwestern Hidalgo County in Deep South Texas..."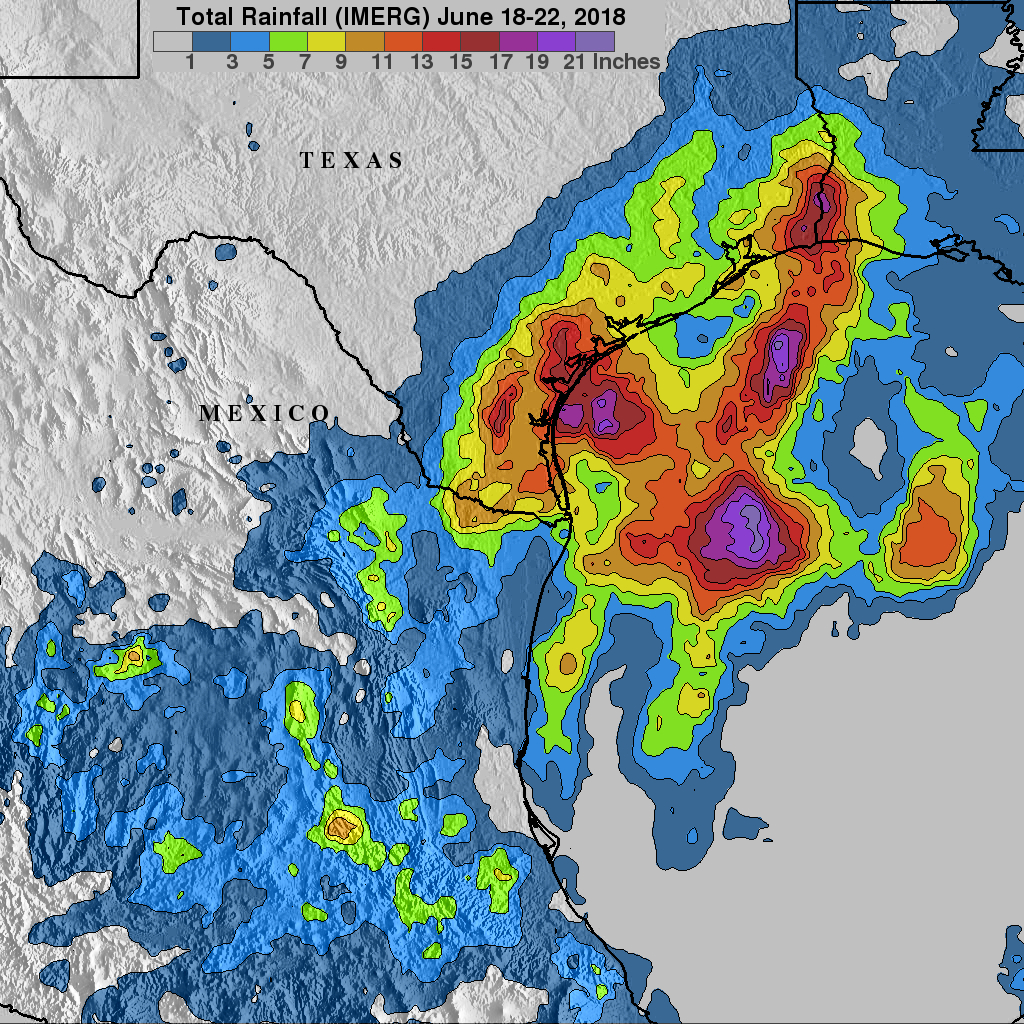 Integrated Multi satellitE Retrievals for GPM (IMERG) data were used in this space based analysis of rainfall accumulation over Texas and northern Mexico during the period from June 18-22, 2018. IMERG is the unified United States algorithm that provides nearly global multi-satellite precipitation estimates. These IMERG estimates were derived from various satellite space-borne passive microwave sensors, including the GPM satellite's Microwave Imager (GMI).
IMERG estimates show that extremely heavy precipitation fell over southern Texas and the northwestern Gulf Of Mexico. IMERG estimates indicated that the heaviest rainfall occurred in the northwestern Gulf Of Mexico where over 21 inches (533.4 mm) of rain fell. IMERG data also indicated that more than 9 inches (228.6 mm) fell in areas from south Texas to western Louisiana. This extreme rainfall resulted in the worst Texas flooding since hurricane Harvey in August 2017.
GPM is a joint mission between NASA and the Japanese space agency JAXA.
Images and caption by Hal Pierce (SSAI/NASA GSFC)