Tasmania's Flooding Rainfall Measured With NASA's IMERG
Last week Tasmanian's were evacuated, businesses were flooded and cars washed away as extreme rainfall accompanied a strong cold front and a low pressure system that spawned violent storms. Hobart city, located in southeastern Tasmania, received record breaking rainfall of more than 100 mm (3.93 inches) in a single day. A strong pressure gradient developed between the complex low pressure center over Tasmania and high pressure that was moving eastward over the Great Australian Bight (Southern Ocean). This strong pressure gradient resulted in destructively high south-easterly winds over Tasmania. The Insurance Council of Australia declared a catastrophe from serious storm damage in southern Tasmania.
This rainfall accumulation analysis was derived from NASA's Integrated Multi-satellitE Retrievals data (IMERG). IMERG data were used to calculate global estimates of precipitation using a combination of space-borne passive microwave sensors, including the GMI microwave sensor on the GPM satellite, and geostationary IR (infrared) data. NASA's Precipitation Measurement Missions (PMM) science team developed algorithms that support GPM Missions such a IMERG. This analysis shows an estimate of IMERG rainfall accumulation totals near Tasmania for the period from May 8-12, 2018. IMERG shows that the strong southeasterly flow produced very heavy rainfall over southeastern Tasmania with totals estimated at over 160 mm (6.3 inches). IMERG data indicates that the heaviest precipitation, reaching over 200 mm (7.9 inches) during this period, occurred in the Tasman Sea east of Tasmania.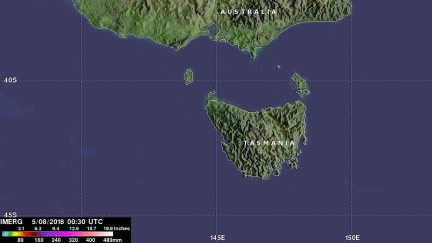 Images and caption by Hal Pierce (SSAI/NASA GSFC)