Tropical Cyclone Emeraude Viewed By GPM
As expected, tropical cyclone Emeraude formed on March 15, 2016 from a tropical low (99s) in the South Indian Ocean. The GPM core observatory satellite flew above intensifying Emeraude on March 16, 2016 at 2121Z after the tropical cyclone's maximum sustained winds had increased to greater than 90 kts (103.5 mph). Rainfall just northwest of Emeraude's eye was measured by GPM's Dual-Frequency Precipitation Radar (DPR) instrument falling at a rate of over 209 mm (8.2 inches) per hour. The powerful thunderstorms producing this extreme rainfall were measured by GPM's radar (DPR) reaching an altitude above 15.7 km (9.7 miles).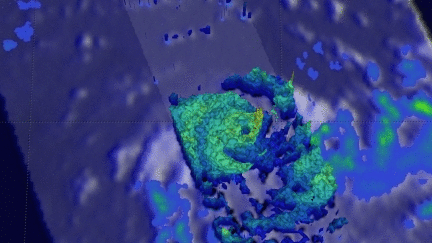 Emeraude is predicted to continue intensifying and have maximum sustained winds of 135 kts (155 mph) on March 18, 2016 making it the equivalent of a strong category four on the Saffir-Simpson hurricane wind scale.
Images and caption by Hal Pierce (SSAI/NASA GSFC)