Typhoon Dolphin Weakening after Drenching Guam
Typhoon Dolphin Weakening after Drenching Guam
Typhoon Dolphin battered and drenched the islands of Guam and Rota as it passed over the channel between them last Saturday. Luckily for Guam, Dolphin's most powerful winds occurred after passing to the northwest of Guam. By May 16, 2015 Dolphin had winds estimated at 140 kts (161 mph) making it a category five super typhoon on the Saffir-Simpson hurricane wind scale. The GPM core observatory satellite flew above the weakening typhoon early this morning when winds had dropped to less than 100 kts (115 mph). GPM's Microwave Imager (GMI) found that Dolphin was dropping rain over the open waters of the Pacific Ocean at a rate of over 65 mm (2.6 inches) per hour.
The second image shows a 3-D view of the area northeast of the typhoon's eye using data from GPM satellite's Dual-frequency Precipitation Radar (DPR).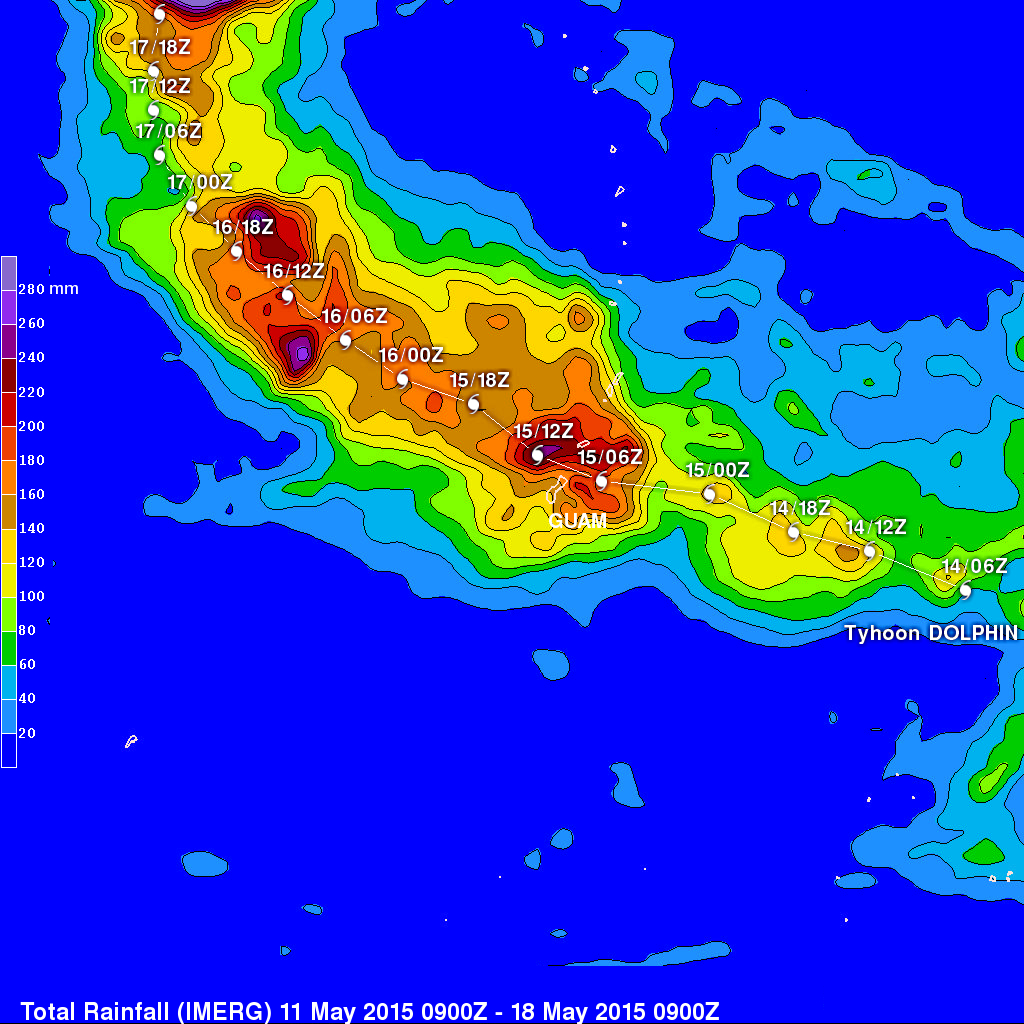 The final image shows a rainfall analysis computed from data generated by the Integrated Multi-satellite Retrievals for GPM (IMERG). This analysis shows the total rainfall computed from May 11, 2015 to May 18, 2015 when typhoon Dolphin was moving through the Marianas. The heaviest rainfall estimates near Guam and Rota were found to be over 240 mm (almost 10 inches) in channel between the two islands. Rota not only received the strongest winds, because of the island was in the right front quadrant of the typhoon but, according to this analysis, also received significantly more rainfall than Guam.