Typhoon Melor Rainfall Measured By IMERG
Typhoon Melor Rainfall Measured By IMERG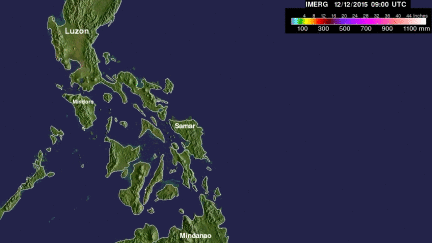 Since landfall typhoon Melor has destroyed thousands of homes and caused the deaths of at least six people in the Philippines. Melor had hurricane force during most of the time it spent moving through the central Philippines and weakened to tropical storm intensity only after moving into the South China west of the Luzon.
Heavy rainfall from the typhoon also caused some flooding along it's path. An analysis of typhoon Melor's rainfall was made using data from NASA's Integrated Multi-satellitE Retrievals for GPM (IMERG). Total rainfall in the area of typhoon Melor from December 12-16, 2015 is shown in this analysis. The highest rainfall totals of over 878 mm (34.6 inches) were measured by IMERG in the Visayan Sea. Typhoon Melor's track and appropriate tropical cyclone symbols shown overlaid in white.

The Joint Typhoon Warning Center (JTWC) predicts that Melor will continue to weaken over South China Sea. In the next few days Melor is expected to dissipate to tropical depression intensity while moving away from the Philippines toward the southwest.
Images and caption by Hal Pierce (SSAI/NASA GSFC)