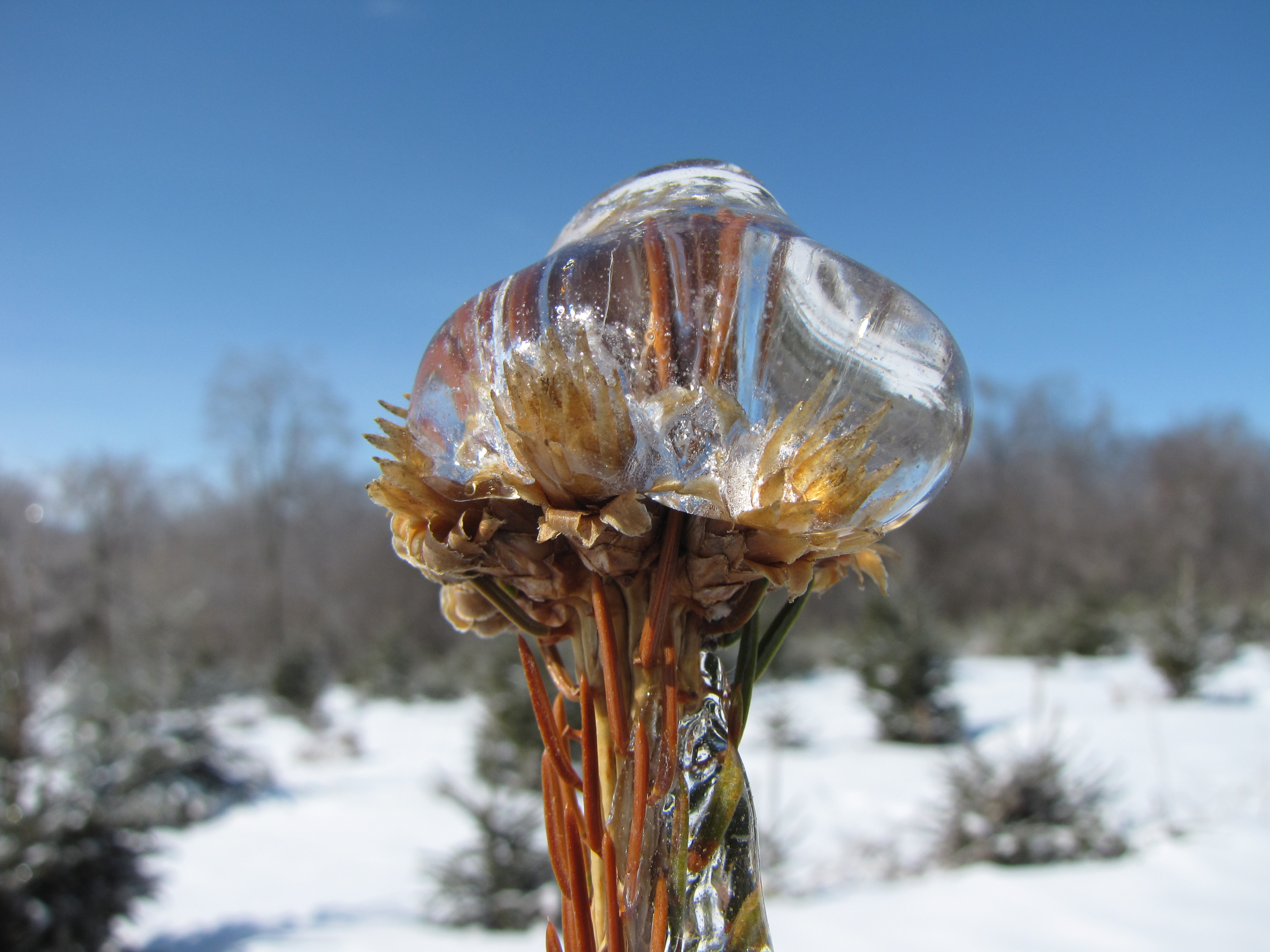 Date and Location:
February 25th, 2011
Three miles north of Waukon, Iowa, on Highway 76
How this Photo Was Taken:
"We had just come out out of a heavy ice storm that covered roads, trees, and everything else that was exposed to the elements with about 3/4 of an inch of pure, clear ice. The next day dawned clear bright and 10 degrees below zero, but with the sunshine I had the rare opportunity to capture some really nice shots of what the ice storm had left in it's wake. This particular shot was taken with the full sun to my left, late afternoon, but still with a temperature of 7 degrees below zero. I actually had to keep the camera warm between shots by tucking it up underneath my arm, inside my shirt and parka - no easy task with a Canon Power Shot SX10 IS!
Ironically, the blossom so beautifully encapsulated in ice is known locally as 'Frost Aster'. They are the last of the Tallgrass Prairie wildflowers in this part of Iowa to lose their bloom, hanging on well into the late Fall and past the first few killing frosts."
About Photographer Jeff Abbas:
"My wife Mary and I operate a local CSA (
http://www.kitchentablecsa.com
) and provide fresh organic fruits and vegetables to our clients throughout the northeastern four counties in northeast Iowa. In the early part of the season, before the gardens are ready, we provide wild foraged foods as part of our shares. The foraged items include wild mushrooms, ramps, wild greens, edible wild flowers, black cap raspberries and lots of nettles. You haven't lived until you've tasted a nettle pie!
I have been taking Tallgrass Prairie wildflower and mycological photos since 2000 in order to augment my studies in their uses as medicinals and edibles. Prior to that I spent many years photographing wildflowers of California's Central Valley, the Motherlode and the High Sierra for
UC Berkeley's Digital Library Project
."