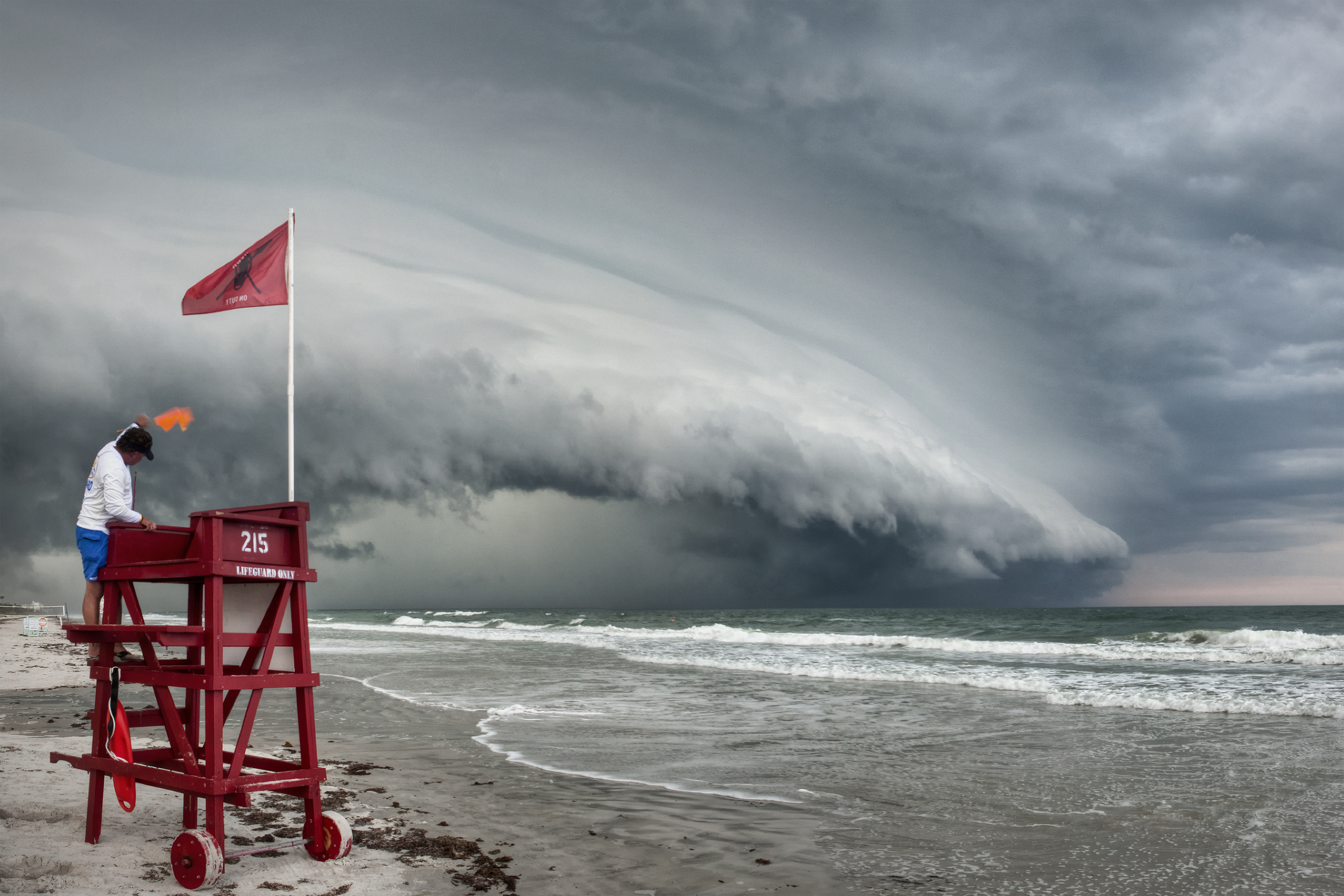 Date and Location:
May 15, 2012
Ormond Beach, Florida
How this Photo Was Taken:
"I'm a photography student at the University of Central Florida. I began chasing storms a little over three years ago. This day started out like many other days. I was out on a storm west of the coast, photographing it even as the National Weather Service issued a severe warning. The NWS lifted the warning, but I decided to stick with it as it moved to the coast. Just as it started to move offshore to the east, it made a turn to the south.
I have shot many storms from the same spot this photo was taken, and I almost drove by to get a different vantage point, but something told me to just stop at my spot. I jumped out of my car and ran down to the beach. To my surprise, there were still several beach-goers taking in the sight of this massive shelf cloud, as well as a few surfers in the water, trying to catch one last wave. Of course, there was a Volusia County lifeguard standing there watching over everyone. I walked down to the water and took some shots, always keeping an eye on the lifeguard. As the shelf cloud approached, I swung back behind the guard tower, waited for him to climb up it and signal to the surfers to exit the water. I took several shots, then hopped back in my car and tried to stay south of the storm.
The storm actually pushed back on shore as it moved south, and then became strong enough for tornado warnings on three separate occasions. I saw a large wall cloud, another spectacular shelf cloud, and some very tight rotation in the couple hours I stuck with the storm after I left the beach in Ormond. Had I known what I already shot there, I probably wouldn't have even bothered. Definitely my signature shot of the year. "
Fun Fact:
A shelf cloud is a type of arcus cloud with a wedge shape. It is a low level, horizontal cloud formation usually associated with the leading edge of thunderstorms. The leading (outer) part of the shelf cloud appears smooth due to rising cloud motions, while the underside often appears jagged and wind-torn.
About Photographer Jason Weingart:
This photo was submitted as part of the GPM Extreme Weather Photo Contest