GCPEx blog Prelude to Storm
Saving the Best for Last - Prelude to a Storm
Joe Munchak is a scientist at Goddard Space Flight Center who specializes in remote sensing of snow. This week he writes from the air in the DC-8 out of Bangor, Maine.
---
Last time I wrote for the GCPEx blog, I was stationed in Barrie, Ontario with the ground team. I've since switched hats to that of CoSMIR Instrument Scientist. CoSMIR (Conically Scanning Millimeter Imaging Radiometer) is one of two instruments on the NASA DC-8 which is based out of Bangor, Maine – my home for the past ten days. With CoSMIR and the Airborne Precipitation Radar-2 (APR2), the DC-8 is acting as a simulator for the GPM satellite, looking down on the CARE ground site so that we can better understand what the satellite measurements mean in terms of snow at the surface.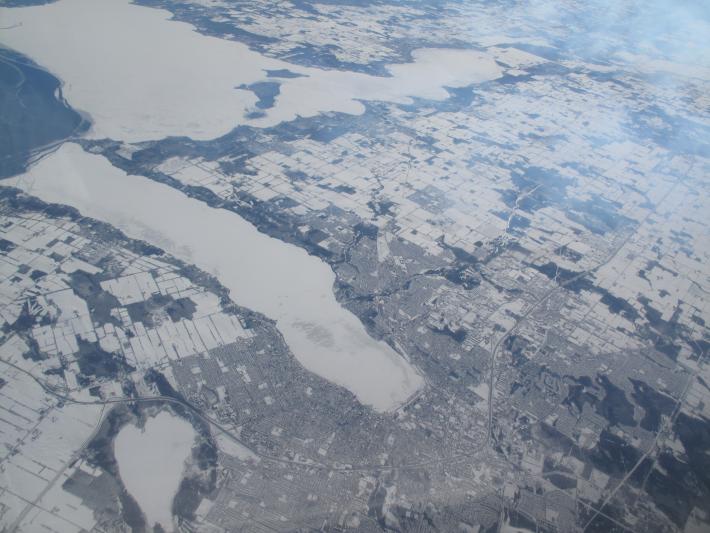 Flying over Barrie, Ontario on a clear-air flight February 20. The large white "finger" in the center of the image is ice- and snow-covered Lake Simcoe.
Credit:
NASA / Joe Munchak
If you've been regularly reading the GCPEx blog, you're probably aware that we've had our share of light rain, mixed precipitation, and snowfall events, and even some heavier, but highly localized, lake effect snowfall. What we're missing so far is what our Ground Validation Lead, Walt Petersen, likes to call a "Golden Day" – a day with widespread heavy precipitation (in our case, snow) focused directly over the ground site and with all instruments working. Note that the final point about working instruments isn't a guarantee by any stretch – this Tuesday (February 21), APR2 (the radar on the DC-8) failed to start and as a result, missed a heavy snowband near Huronia, Ontario that CoSMIR was able to detect, and which contained 1-cm snowflakes according to the instruments on the Convair aircraft flying in the cloud below. Fortunately, APR2 scientists Simone Tanelli and Albert Comellas were able to troubleshoot and fix the problem with some help over the satellite phone from their colleagues at JPL.
Although time is running out, forecasts seem to be converging on an event that would meet these criteria from a meteorological standpoint early morning Friday, February 24. Although the timing isn't the most convenient (3AM takeoff!), we can't afford to miss this storm if it lives up to its potential. We are also down to 7 flight hours in the experiment budget, so we are forced to put our eggs in this basket - if another snowstorm were to occur before February 29 (the last day of the experiment), we couldn't fly it. There doesn't appear to be another storm in the forecast, thankfully, so our decision to fly is a little easier. Hopefully, the next blog post will be filled with stories of success!