Cristobal Becomes A Hurricane
Cristobal Becomes A Hurricane
Tropical storm Cristobal was upgraded to a hurricane yesterday evening at 8:20 PM (August 26, 2014 at 0020 UTC). The TRMM satellite flew above the newly designated hurricane this morning at 1135 UTC (7:35 AM EDT) providing rainfall data used in this image. A rainfall analysis derived from TRMM's Microwave Imager (TMI) and Precipitation Radar (PR) data is shown overlaid on a 1126 UTC GOES-EAST Visible/Infrared image.

Cristobal was a category one hurricane with sustained winds estimated to be slightly above 65 kts (about 75 mph) with this view. Cristobal's didn't have a clearly defined eye with vertical wind shear still affecting the tropical cyclone's appearance. TRMM PR and TMI rainfall data found heavy rain to the northeast of Cristobal's center and in intense convective storms within a feeder band streaming in from the southwest. Some of the powerful storms in the feeder band were found by TRMM PR to be dropping rain at a rate of 133.8 mm ( about 5.2 inches) per hour.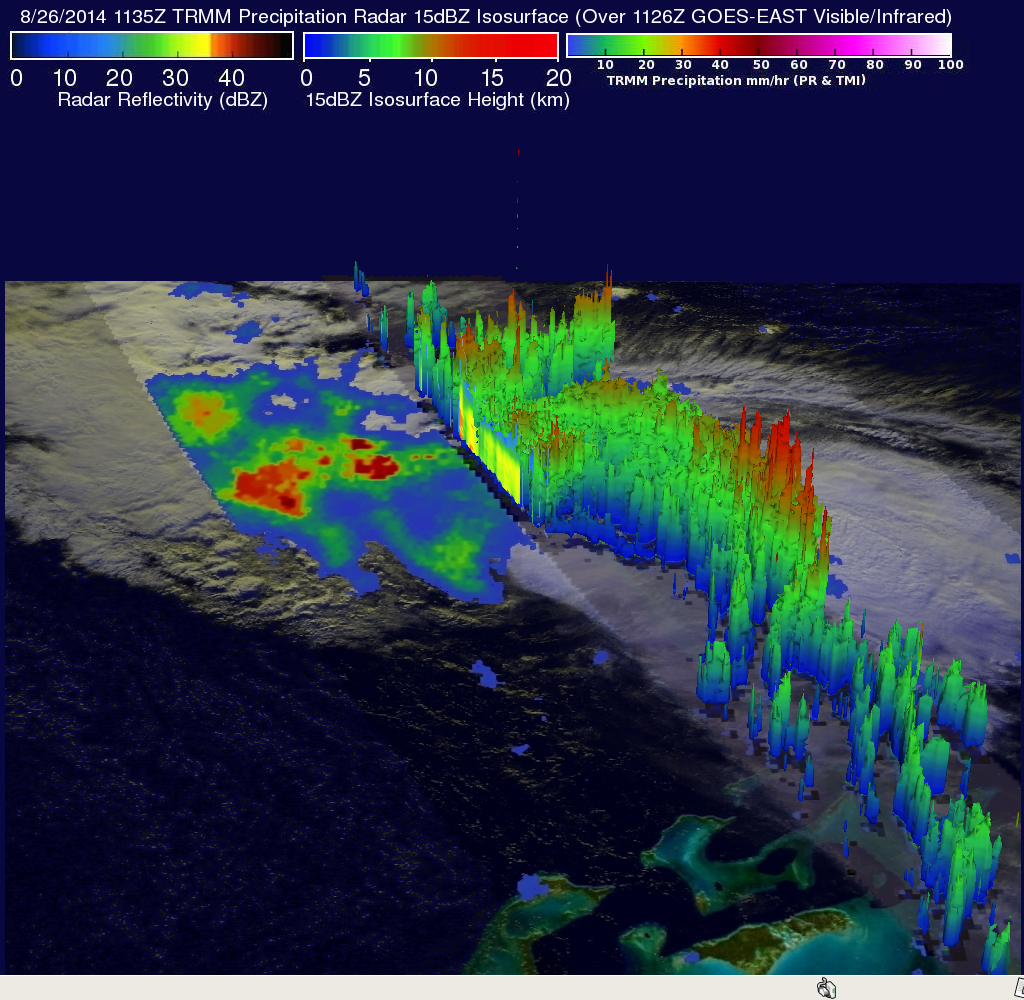 TRMM's Precipitation Radar (PR) reflectivity data were used in this image to show a 3-D view of precipitation within the feeder band south of Cristobal's center. Those data showed that some energetic storms in this band were reaching heights of over 15km (about 9.3 miles). Heavy rain in these storms were returning reflectivity values of over 52dBZ to the satellite.

Hurricane Cristobal is predicted by the National Hurricane Center (NHC) to intensify slightly in the next 48 hours while heading toward the north-northeast over the open waters of the Atlantic Ocean.