Deadly Flooding and Landslides With Tropical Storm Jangmi
Deadly Flooding and Landslides With Tropical Storm Jangmi
Jangmi became the 23rd named tropical cyclone in the western Pacific Ocean when it formed southeast of the Philippines on December 28, 2014. Heavy rainfall from Tropical storm Jangmi recently produced flooding and landslides in the Philippines that have reportedly killed over 30 people. The Philippines frequently gets hit by tropical cyclones. Tropical storm Jangmi hit only three weeks after slow moving typhoon Hagiput churned through the central Philippines.
The TRMM satellite had a fairly good view of Jangmi on December 29, 2014 at 1425 UTC. The TRMM Microwave Imager(TMI) instrument showed that intense rain bands around the tropical storm were dropping precipitation at a rate of over 50mm (almost 2 inches) per hour.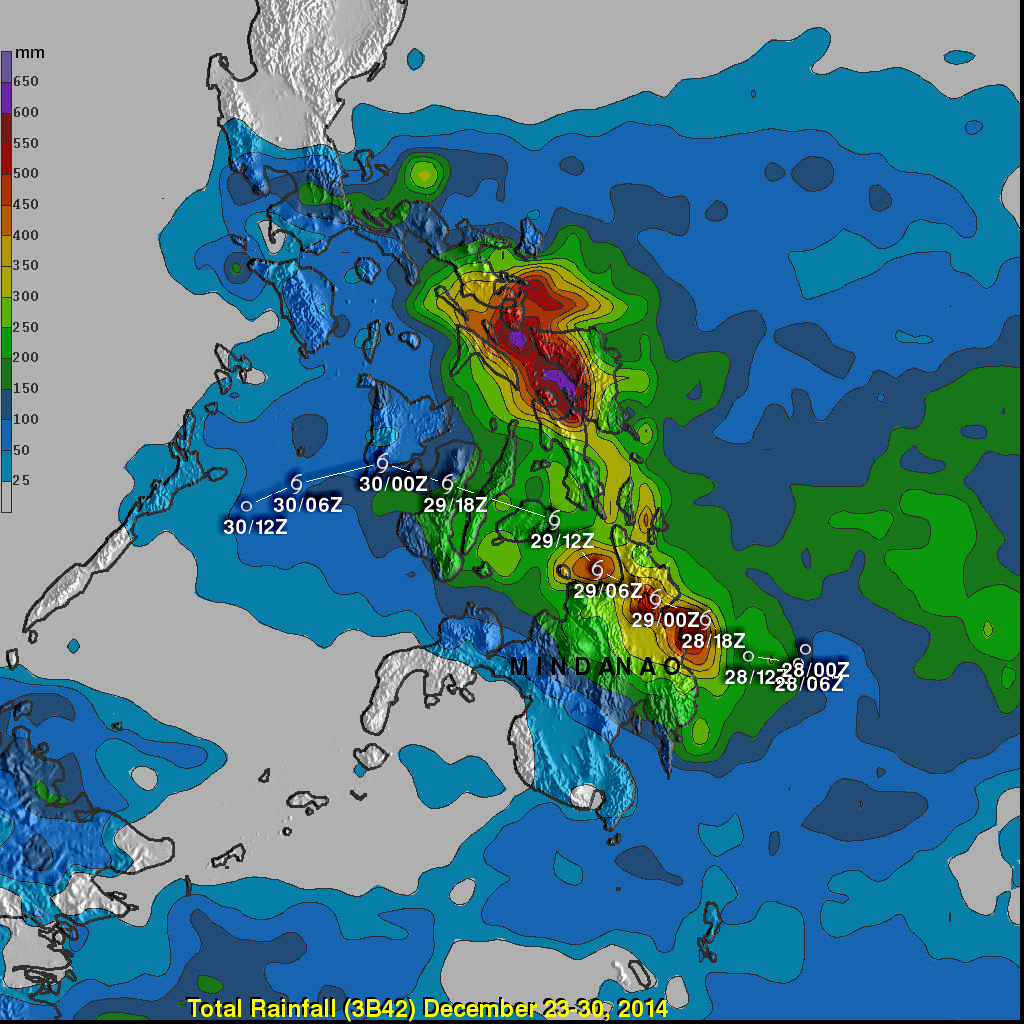 Measurements derived from merging rainfall estimates from various satellites (3B42) are produced in near real time at the Goddard Space Flight Center (GSFC). These estimates cover a global belt extending from 50 degrees South to 50 degrees North latitude. The Multi-satellite Precipitation Analysis (MPA) above was produced at the NASA Goddard Space Flight Center to show rainfall totals in the area of the Philippines from December 23-30, 2014. This analysis shows that tropical storm Jangmi produced copious amounts of rainfall near it's track (shown in white). However, the highest rainfall totals were in the area of onshore flow northeast of the tropical storm's center of circulation. Rainfall weekly totals were estimated to be greater than 600 mm (about 24 inches) over the Samar Sea. This is in the area where many are still recovering from the devastation caused by typhoon Haiyan in 2013.

Tropical storm Jangmi has now weakened to a tropical depression but is predicted by the Joint Typhoon Warning Center (JTWC) to rebound to tropical storm intensity in the next few days as it moves over the warm waters of the southern South China Sea.