Late Season Tropical Storm Kuena Forms
Late Season Tropical Storm Kuena Forms
A tropical storm called Kuena formed in the southwest Indian Ocean east of Madagascar on June 6, 2012. This is a little unusual because the tropical cyclone season in that area normally ends on May 15. The TRMM satellite had an excellent view of Kuena when it flew directly above the newly formed storm on June 6, 2012 at 1607 UTC. A rainfall analysis that used data from TRMM's Microwave Imager (TMI) and Precipitation Radar (PR) instruments is shown overlaid on an enhanced infrared image from TRMM's Visible and InfraRed Scanner (VIRS) instrument. This analysis shows that heavy convective storms were dropping intense rainfall of over 50mm/hr (~2 inches) within the storm.

A 3-D analysis of Kuena's vertical structure shows that a few of these powerful storms within Kuena were pushing to heights above 15km (~9.3 miles).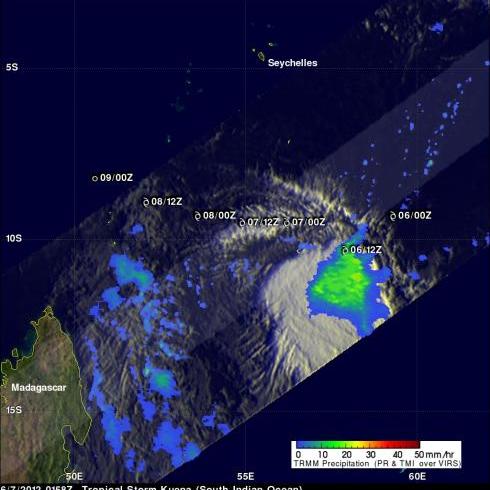 The TRMM satellite had another fairly good look at Kuena on June 7, 2012 at 0158 UTC. Kuena's past and forecast track is shown overlaid in white on this image. Data from TRMM's TMI instrument shows that Kuena was still producing moderate to heavy rainfall over a large area of the south Indian Ocean east of Madagascar. Kuena is expected to dissipate to tropical depression strength on June 8, 2012 while moving westward between the Seychelles and the northern tip of Madagascar.