TRMM sees Powerful Tropical Cyclone Funso
TRMM sees Powerful Tropical Cyclone Funso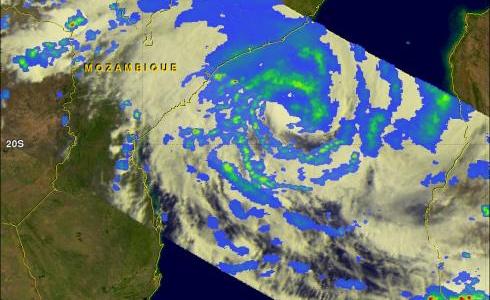 The TRMM satellite had a good view of powerful tropical cyclone Funso battering the Mozambique coast when it flew over on 23 January 2012 at 1451 UTC. TRMM data shows that Funso was dropping moderate to heavy rainfall in bands covering the Mozambique channel from eastern Mozambique to western Madagascar. Storms and floods from Funso have killed at least 22 people and forced tens of thousands from their homes in Mozambique.


Tropical cyclone Funso formed in the Mozambique channel off the coast of Mozambique on 19 January 2012. The image above shows what TRMM saw on 21 January 2012 when Funso had intensified to a powerful category 3 tropical cyclone. TRMM's Precipitation Radar (PR) captured data showing that very intense rainfall was occurring in the eastern side of Funso's eye. TRMM also showed very heavy rainfall was located northeast of Funso off the northwestern coast of Madagascar.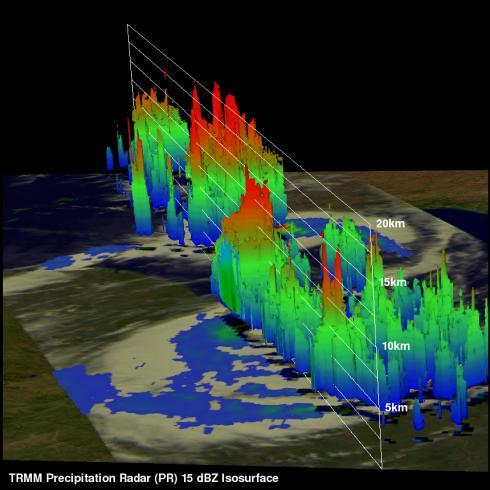 The 3-D image above from TRMM Precipitation Radar (PR) shows that storms within Funso and in other areas of the Mozambique Channel had tops reaching to heights above 15km (~9.3 miles). TRMM's PR found that the highest reflectivity values in the Mozambique Channel exceeded 52dBZ. As expected they were located in powerful storms within Funso's eye wall.