Tropical Storm in the Arabian Sea
Tropical Storm in the Arabian Sea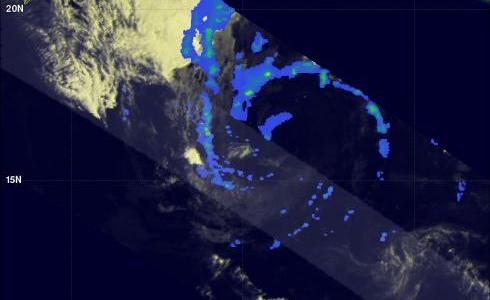 Tropical Storm 05A, the 5th of the season in the North Indian Ocean, has been steadily making it's way northwestward across the Arabian Sea over the past few days but is now expected to weaken, reducing the threat to Oman, southern Iran and Pakistan. The storm formed back on November 26th in the North Indian Ocean about 170 km (~105 miles) west of the southern tip of India and has maintained the same minimal tropical storm intensity with sustained winds of around 35 knots (~40 mph) while moving steadily to the northwest into the central Arabian Sea.
The Tropical Rainfall Measuring Mission satellite (known as TRMM) captured these images of the storm as it was moving through the Arabian Sea. TRMM was placed into service way back in November of 1997 and has proven to be a valuable platform for observing tropical cyclones in the Tropics using its combination of passive microwave and active radar sensors. The first image of Tropical Storm 05A was taken at 13:21 UTC (6:21 pm local time) 29 November 2011 and shows the horizontal pattern of rain intensity within the storm. Rain rates in the center swath are from the TRMM Precipitation Radar (PR), and those in the outer swath are from the TRMM Microwave Imager (TMI). The rain rates are overlaid on infrared (IR) data from the TRMM Visible Infrared Scanner (VIRS). TRMM reveals that there is actually very little rain associated with the storm. The most prominent features are two long, thin rainbands containing mostly light (blue areas) to occasional areas of moderate (shown in green) rain that spiral in towards the center, revealing the presence of the storm's cyclonic circulation. The upper-level cloudiness (shown in white) is displaced well to the northwest of the low-level circulation and is a manifestation of the strong vertical wind shear affecting the storm.
The second image was taken the following morning at 04:14 UTC (9:14 am local time) on the 30th. The upper-level clouds now extend back over the center, and there is an area of moderate rain (green area) in the northeast quadrant of the storm, but overall there is still very little rain associated with the system and still almost none near the center. The storm is expected to drift more westward and weaken to a tropical depression off the coast of Oman. In early November, Tropical Storm Keila made landfall in southern Oman, killing 14 people. Although the cyclone season is rather long in the North Indian Ocean, stretching from April through December, in an average year there are typically just over 5 named storms with only 2 becoming full tropical cyclones.