Friday, September 12, 2014
Tropical Storm Edouard forms in the Atlantic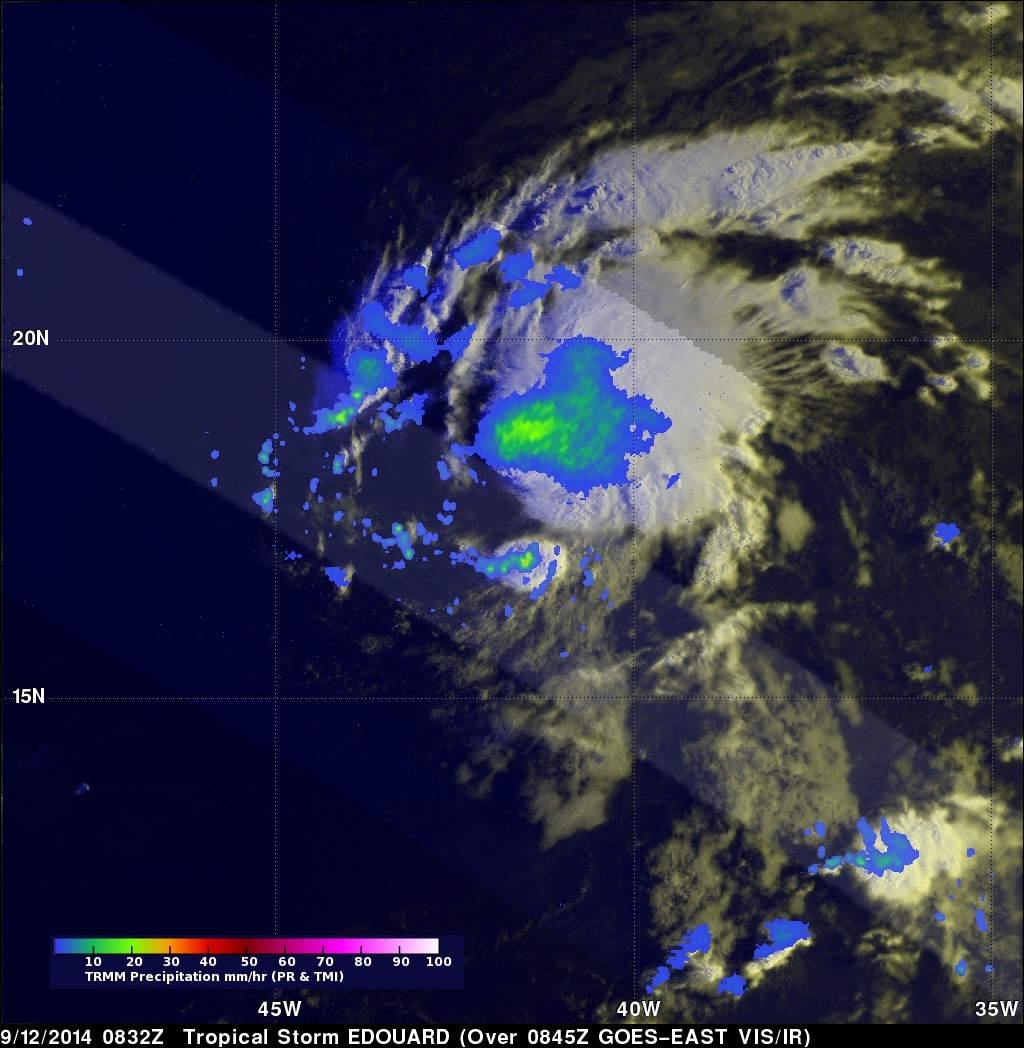 The formation of Tropical Storm Edouard in the central Atlantic marks the climatological peak of the Atlantic hurricane season in what has so far been a rather average season in terms of the number of storms. Edouard became the fifth named storm of the season after forming overnight in the central Atlantic about 1645 km (~1020 miles) west of the Cape Verde Islands. In a typical season there are about 10 named storms and 6 hurricanes. So far this year, halfway through the season, there have been 5 named storms and 3 hurricanes, but none have posed a major threat to the US, and there have been no major hurricanes as yet. Normally about 2 to 3 major hurricanes form in the Atlantic each year.

TRMM helped to pinpoint Edouard's location in the central Atlantic when it passed over the system early this morning. This first image was collected at 08:32 UTC (4:32 am EST) 12 September 2014, about 5 and half hours after Edouard was identified as a minimal tropical by the National Hurricane Center. TRMM shows that Edouard is still in the formative stages. The main area of rain (largest green and blue area, indicating moderate to light rain, respectively) is located to the northeast of the center of circulation due to southwesterly wind shear. The center itself is mainly free of clouds and rain at this time and its location is revealed by the curvature in the rain bands (arc shapes) just to the south of the main area of rain.
At the time of this image, Edouard's sustained winds were reported at 35 knots (~40 mph) by the National Hurricane Center. Currently the storm is moving to the west-northwest and is expected to strengthen slightly and possibly become a minimal hurricane before curving back out to sea well away from the US mainland.