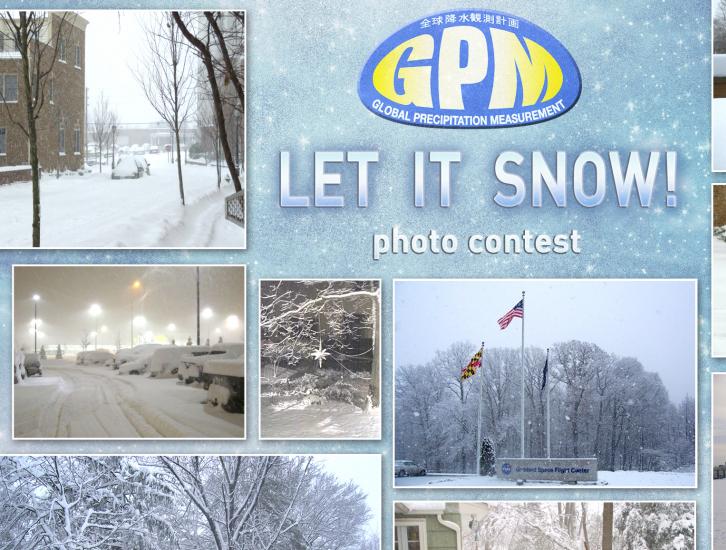 GPM "Let it Snow" Photo Contest Winners
Tuesday, March 5, 2013
The Global Precipitation Measurement mission is happy to announce the top ten winners of the "Let It Snow" photo competition.
Thank you to everyone who submitted their best pictures of winter. From January 7th through February 4th 2013, over 1,000 photos were submitted via Flickr and Instagram (see the Flickr submissions here). We loved all of your entries and thoroughly appreciate your participation.
We'll be sending the winning submitters GPM posters, lithographs, pins, and NASA and GPM stickers.
Stay tuned and follow GPM for information about future events and contests, including our newest activity The GPM Anime Challenge, going on NOW until April 30th.
Winter Walk, by Crystal Shull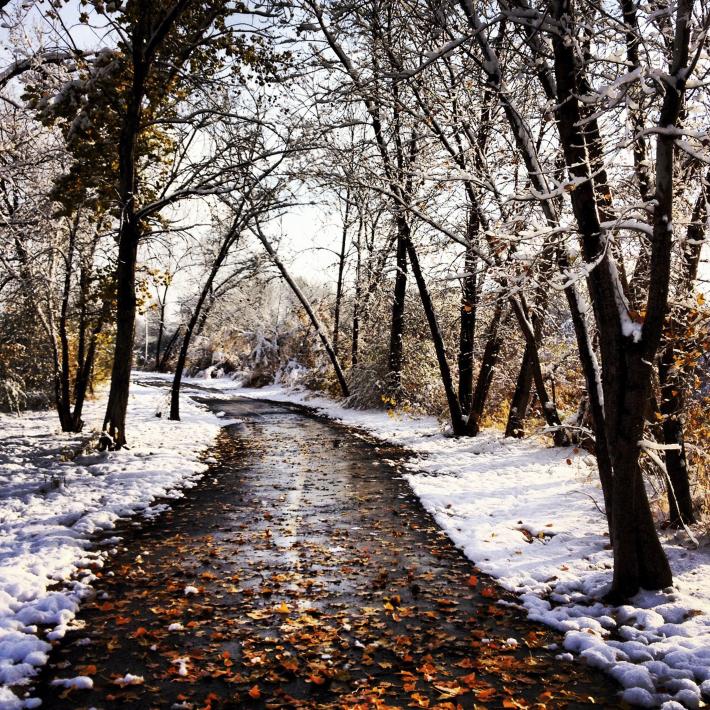 (Instagram Submission)
Date and Location:
November 10th, 2012
Jordan River Walkway, Salt Lake City, Utah
How this Photo Was Taken:
"It was the first good snowstorm of the year and the sun came out which made you feel like you were in a winter wonderland. "
About Photographer Crystal Shull:
www.facebook.com/crystalshullphotography
Cloud Hovering Over Mount Shasta, by Gerry Ramos

Date and Location:
January 14th, 2013
North Side of Mount Shasta (in Siskiyou County, California), on highway US 97.
How this Photo Was Taken:
"While driving south on Highway US 97 on the North side of Mt. Shasta, I saw how the cloud was forming into this awesome view. I posted the picture in Instagram and Facebook and my teenage son said 'Dad, that picture looks like an alien spaceship over the mountain.' "
About Photographer Gerry Ramos:
"I love Mother Nature!"
Facebook: http://facebook.com/laalum
Instagram: http://instagram.com/2entropy
Snowflakes, by Brian Johnson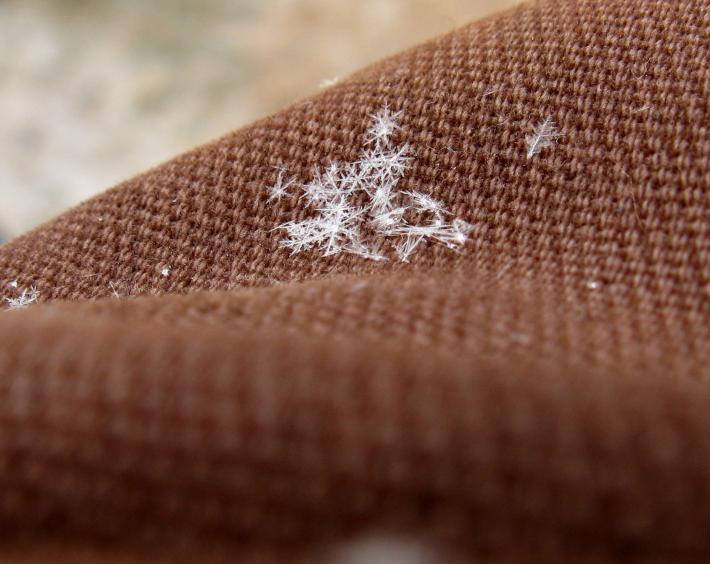 Date and Location:
January 22nd, 2011
Kechi, Kansas
How this Photo Was Taken:
"Macro photo of snowflakes on a Carhartt coat. Taken with Cannon Powershot A720.
Sitting on the back porch watching a very light snow fall. I was interested in macrophotography and wondered if I could see the actual snowflake crystals. My first attempt was wearing a black jacket that didn't show the snowflakes very well. Then I grabbed my Carhartt jacket and watched the snow gather on my arm."
About Photographer Brian Johnson:
Forever Autumn, by Jeff Abbas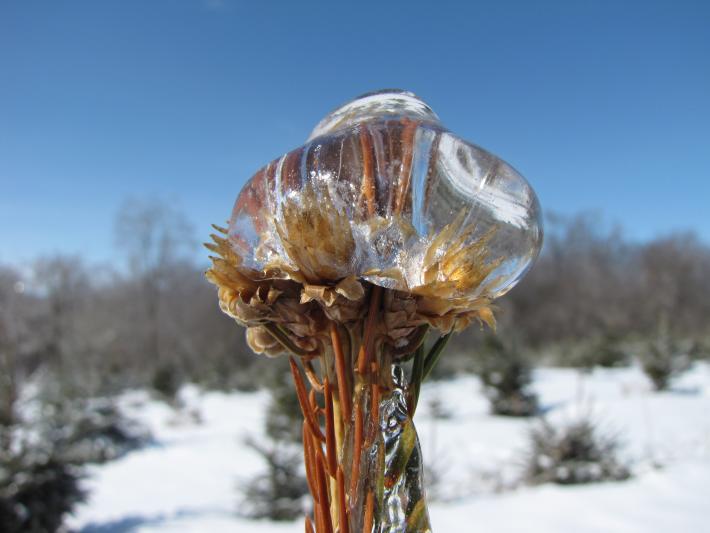 Date and Location:
February 25th, 2011
Three miles north of Waukon, Iowa, on Highway 76
How this Photo Was Taken:
"We had just come out out of a heavy ice storm that covered roads, trees, and everything else that was exposed to the elements with about 3/4 of an inch of pure, clear ice. The next day dawned clear bright and 10 degrees below zero, but with the sunshine I had the rare opportunity to capture some really nice shots of what the ice storm had left in it's wake. This particular shot was taken with the full sun to my left, late afternoon, but still with a temperature of 7 degrees below zero. I actually had to keep the camera warm between shots by tucking it up underneath my arm, inside my shirt and parka - no easy task with a Canon Power Shot SX10 IS!
Ironically, the blossom so beautifully encapsulated in ice is known locally as 'Frost Aster'. They are the last of the Tallgrass Prairie wildflowers in this part of Iowa to lose their bloom, hanging on well into the late Fall and past the first few killing frosts."
About Photographer Jeff Abbas:
"My wife Mary and I operate a local CSA (http://www.kitchentablecsa.com) and provide fresh organic fruits and vegetables to our clients throughout the northeastern four counties in northeast Iowa. In the early part of the season, before the gardens are ready, we provide wild foraged foods as part of our shares. The foraged items include wild mushrooms, ramps, wild greens, edible wild flowers, black cap raspberries and lots of nettles. You haven't lived until you've tasted a nettle pie!
We are also incredibly active with a couple of social issues facing our area. We are under assault from mining companies trying to mine the sand from our hills and farmlands (it's essentially just like mountain-top removal) to be used in the process of hydraulic fracturing. Our group has been successful in lobbying the county officials to impose an 18-month moratorium on all sand mining and related industries in order to study the downside of allowing the to proliferate unchecked in Iowa. That website is http://www.allamakeecountyprotectors.com
I have been taking Tallgrass Prairie wildflower and mycological photos since 2000 in order to augment my studies in their uses as medicinals and edibles. Prior to that I spent many years photographing wildflowers of California's Central Valley, the Motherlode and the High Sierra for UC Berkeley's Digital Library Project."
The HET at Dawn, by Coyne Gibson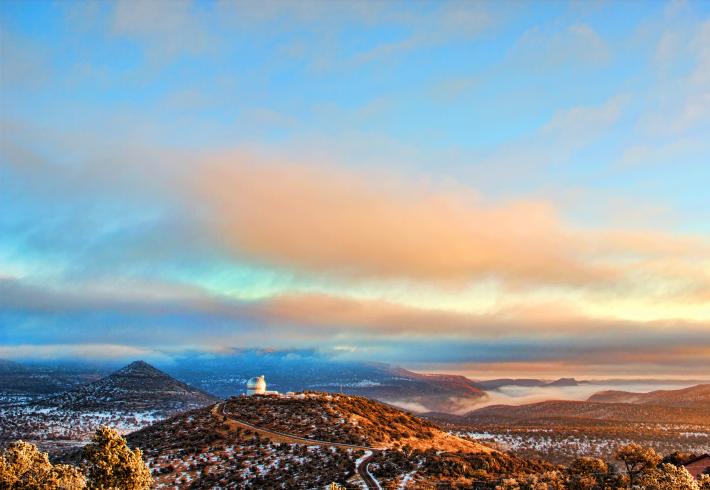 Date and Location:
8:08 AM on January 15th, 2013
Taken from the MacDonald Observatory, Texas
How this Photo Was Taken:
"This photo was taken just after local sunrise, from the catwalk of the 107" / 2.7M Harlan J. Smith Telescope Dome at McDonald Observatory at the summit of Mt. Locke.
The view is approximately North. The Harlan J. Smith Dome is atop Mt. Locke, at the summit. The Hobby-Ebberle Telescope (HET) is at the summit of Mt. Fowlkes, north of Mt. Locke across a geologic saddle between the summits.
The small conical peak to the left of the HET (silver) dome is Guide Peak. Behind Guide Peak and the HET, obscured by the clouds is Black Mountain, and a ridge line to the west, Gavina Ridge. The fog-filled canyon to the right is Big Aguja Canyon.
We had near record snowfall this year at the Observatory, considered a 100-year event, with approximately 19 1/2" deposited in the January 9th-11th snow event. A week prior, we had approximately 7" of snow over two days on January 3rd and 4th.
This photograph was taken during an atmospheric inversion event, when we still had significant snow on the ground. Fog and low clouds fill the valleys below the mountain summits, making spectacular photographic opportunity, particularly at sunrise."
About Photographer Coyne Gibson:
"I am the Manager of Observing Support here at McDonald Observatory, and have access to unique vantage points like the dome catwalks. These offer 360-degree, horizon-to-horizon views of the Davis Mountains and surrounding Chihuahuan Desert valley."
White Silence, by Gabor Dvornik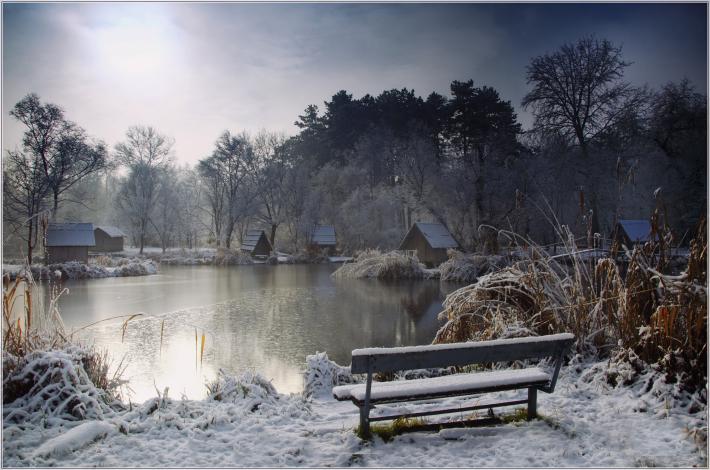 Date and Location:
December 5th, 2012
"The photo was taken in Hungary, near a little village called Sződliget"
How this Photo Was Taken:
"It was one of those chilly mornings when the sky was clear and the wind was calm. You could hear the small branches break as a bird flew near. The surface of the lake was smooth and covered with thin ice. Everything was white and not a sound heard, just some faint sough trough the rimed tree branches. Like if everything would have been frozen. Time itself."
About Photographer Gabor Dvornik:
"This capture is part of the following series:
http://www.facebook.com/media/set/?set=a.4850176929560.2186461.1151097697&type=3
You can find additional information about me at the following links:
Mount Roy, Wanaka, New Zealand, by Steven Sandner

Date and Location:
September 25th, 2010
Mount Roy, in Wanaka, New Zealand - looking towards Mount Aspiring.
How this Photo Was Taken:
"(not exactly a cool story but) - Hiking a few kilometers through the snow, was worth it for this view."
About Photographer Steven Sandner:
https://www.facebook.com/pages/Steven-Sandner/114889035800
Snowfall San Diego Style, by Judtih Lea Garfield
Date and Location:
December 2012
La Jolla Shores, La Jolla, California
How this Photo Was Taken:
"Most of my time is spent under water, except right after a storm when I go to the beach to play in the snow. Winter storms bring extreme tides, which interact in a singular way with the ocean's giant kelp to create a snowfall with a twist. Winds whip up the ocean, causing kelp strands to break, which releases their alginate (a nontoxic, viscous substance) into the water. The slippery alginate is like bubble bath, and the churning ocean is like a faucet of running water. The resulting suds, called seafoam, pile up on the water's surface. Onshore winds then blow the meringue to shore. As the tide ebbs, a winter wonderland is left in its wake (so to speak). Let it snow SoCal style!"
About Photographer Judith Lea Garfield:
My day isn't complete if a bit of it isn't spent in the ocean communing with marine life. I've written two natural history field guides about the San Diego-La Jolla Underwater Park Ecological Reserve and write a newspaper column, "TideLines," for the San Diego Community News Group. Visit www.TideLines.org or write judithgarfield@yahoo.com
Sunrise on Mount Yotei, by Kristin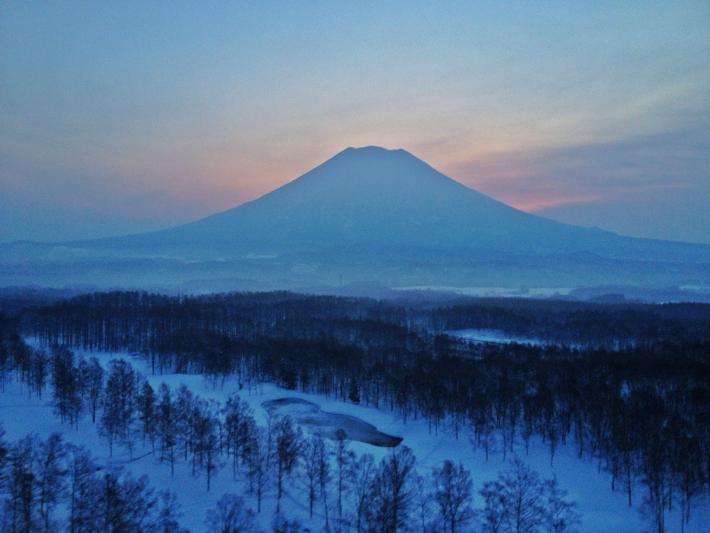 (Instagram Submission)
Date and Location:
December 2012
Niseko, Hokkaido, Japan
How this Photo Was Taken:
"This photo was taken at 6:26am, a beautiful sunrise on my 30th birthday."
About Photographer Kristen:
http://instagram.com/bnxx
Kulusuk Icebergs, by Andrew Bossi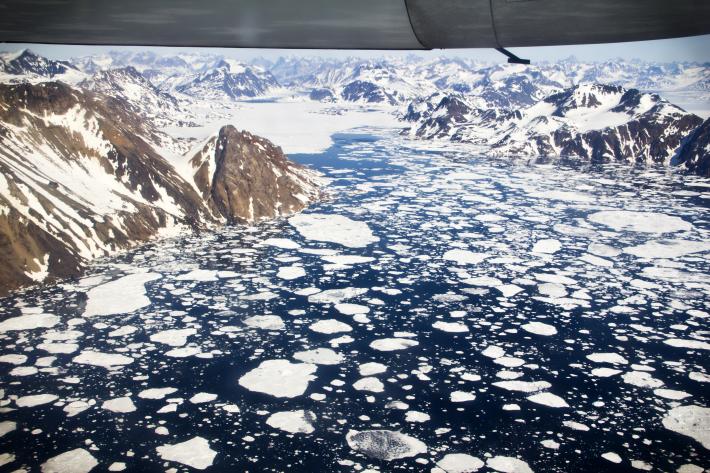 Location:
On approach to the airstrip at Kulusuk, Greenland, located on the east coast. The flight departed out of Reykjavík, Iceland.

How this Photo Was Taken:
"My write-up of the day covers things in decent detail. Basically my vacation was focused on Scandinavia and hadn't even considered Greenland, but while traveling around Iceland I'd become aware that day trips were offered and I leapt at the opportunity.
This approach was my first sight of Greenland. While I've seen plenty of glaciers and mountains, I'd never seen anything like this - it started with endless fields of ice amid the deep blue sea, and some minutes later a wall of frozen rock rose up from the horizon. I'd never seen anything so beautiful.
I think my camera's shutter was snapping almost endlessly right up until we landed. The landing itself was an experience, as our tiny plane descended between the mountains -- rockfaces just outside each window -- and set down on a gravel runway."
About Photographer Steven Sandner: