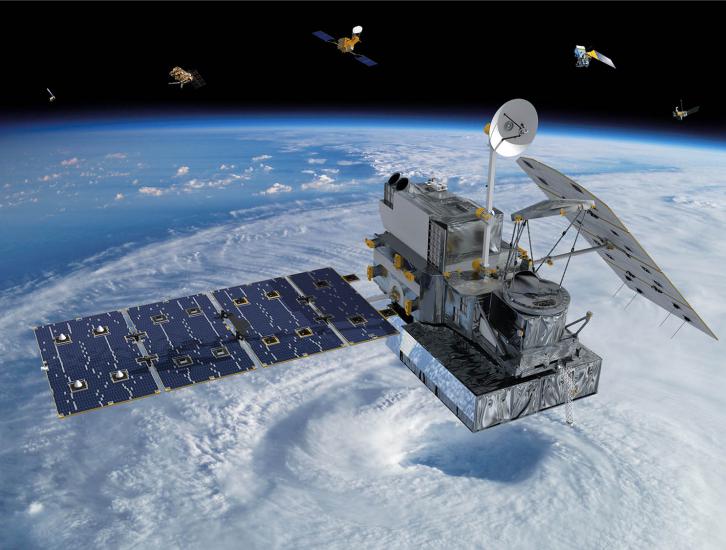 GPM "Unique Perspectives" Winners
Tuesday, February 4, 2014
The Global Precipitation Measurement mission is happy to announce the top winners of the "Unique Perspectives" photo competition.
Thank you to everyone who submitted their best pictures of precipitation from unique perspectives. From November 1st 2013 through January 1st 2014, over 1,500 photos were submitted via Flickr and Instagram. We loved all of your entries and thoroughly appreciate your participation.
We'll be sending the winning submitters GPM posters, lithographs, pins, and NASA and GPM stickers.
Stay tuned and follow GPM for information about future events and contests.
---
Cradled, by Teresa Franco Collantes
Date and Location:
"I took this photo around December of last year from my own backyard in San Diego, California . I like to wake up early in the morning to catch the dew drops of the grass."
How was this Photo Taken?
"I woke up one early morning to challenge myself to take better photos of dew drops. It's quite difficult because the slightest move or wind shakes them off of the grass blades. I also took the risk of wetting my iPhone, but I think it was worth it. I flipped the image upside down before I uploaded it to Instagram because I like how the grass is holding the tiny little dew drop with such care."
About Photographer Teresa Franco Collantes:
Winter 13, by Jeff Kling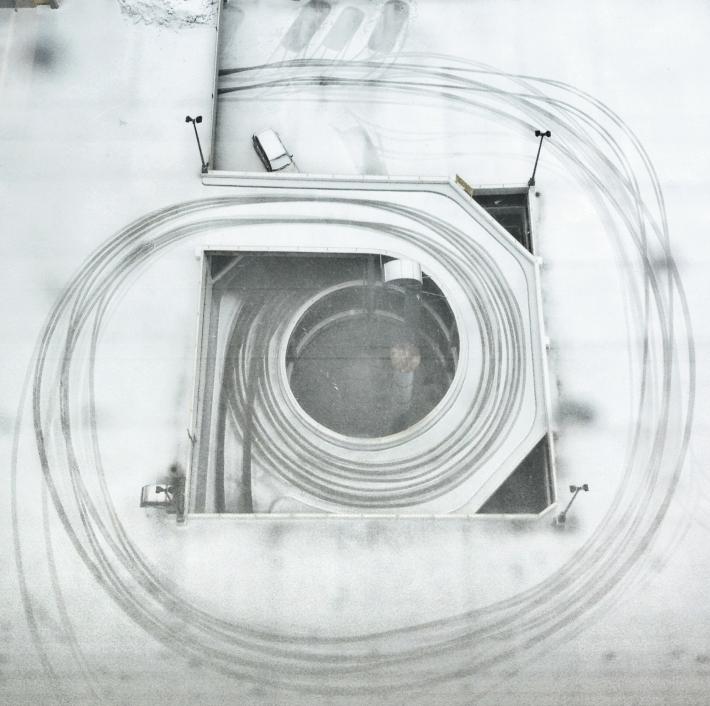 Date and Location:
Winter 2013
How this Photo Was Taken:
"I love snow. I feel like people share this agreed upon fiction that snow is bad, groan, yuck--in the sun is where you want to be, right? Right? But I never forgot how great it feels to look out the window and see snow falling. It's confetti for an outdoors party you're about to attend, with all the indoor afterglow implied. So at work I just stopped what I was doing and looked out the window. I looked straight down, next to our building, and this is what I saw."
About Photographer Jeff Kling:
"I keep a low profile but enjoy seeing people on Instagram as @mutzenpapa and increasingly like twitter, where I am also @mutzenpapa."
Rainin on my Birthday, by Bryan Lee Jie Long
Date and Location:
September 6th, 2013
Singapore, Jurong East
How this Photo Was Taken:
"It was my birthday and it was raining heavily, so I went to my house balcony and looked down. Big fat droplets of water falling, so I though 'why not take a photo of that?' I actually wanted to created a long exposure (more than a second long) where water will look silky but it dawned on me that my HTC One phone camera wasn't capable of doing that."
About Photographer Bryan Lee Jie Long:
Bryan is a photographer at the Commonwealth Secondary School in Singapore. You can follow him on Instagram at @NeverDivideBy0
The Perfect Storm, by Jonathan Navarro
Date and Location:
July 19th, 2013
​Phoenix Sky Harbor International Airport, USA
How this Photo Was Taken:
"My sister works at Sky Harbor Airport so I tagged along for the first good monsoon storm of the 2013 season. This was my first successful attempt of capturing the monsoon. While there, I met a few other photographers trying to get some lightening photography as well."
About Photographer Jonathan Navarro:
"I am 17 years old, a senior at Ironwood High School in Glendale
Arizona. Photography and plane spotting are my hobbies. I am part of
the Phoenix Spotters and enjoy photographing the many planes arriving and
departing phoenix as well as occasionally traveling to LAX or other cities
for air shows."
Lava Ice, by Jeremy Pettus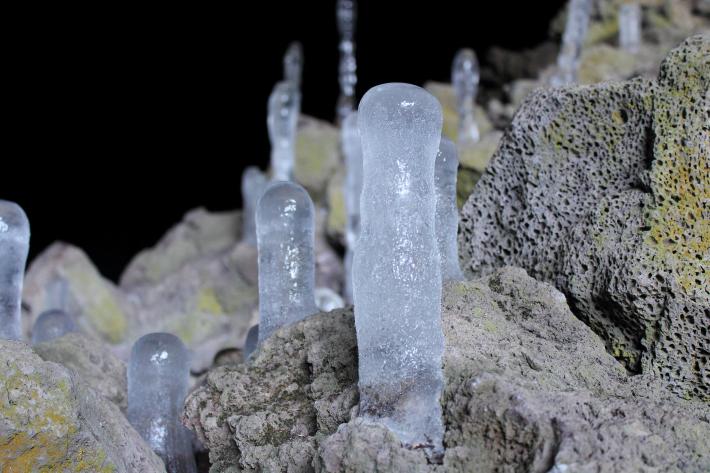 Date and Location:
January 10th, 2013
Lava Beds National Monument, Tulelake, California, USA
How this Photo Was Taken:
"I heard that there were amazing ice formations in the lava tubes at the Lava Beds National Monument but had no idea which tube they were in. After exploring a few of the easy tubes and being disappointed that I couldn't find these ice stalagmites I decided to bite the bullet and climb through waist deep snow to another lava tube. I was not disappointed! I finally stumbled into a cave with these amazing ice stalagmites growing from the rocks! It looked as if glowing candles were welcoming me to this hidden cavern."
About Photographer Jeremy Pettus:
Follow Jeremy on Flickr at: http://www.flickr.com/photos/i_used_to_hate_photography/
Rain in the Pines of Fort Valley, by Gill Couto
Date and Location:
July 4th, 2013
Fort Valley, Arizona, USA
How this Photo Was Taken:
"Taken from my campsite outside Flagstaff, AZ while sheltered in a heavy downpour. The sun suddenly poked through an opening in the clouds and I instantly setup the camera on the tripod and got this moody shot, one of my best rain photos ever."
About Photographer Gill Couto
Follow Gill on Flickr at http://www.flickr.com/photos/gillcouto/
Hole in the Earth, by Greg Colacino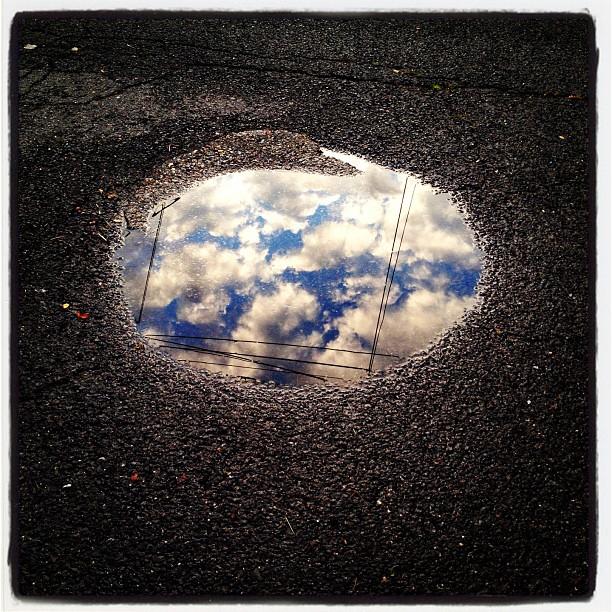 Date and Location:
April 2012
New Jersey, USA
How this Photo Was Taken:
"By looking at the world a little differently."
About Photographer Greg Colacino: Writer, Photographer, & Artist... Greg Colacino is a West Coast based Marketing Specialist whose work can be found at: http://www.GregSea.com
Winter Barbs, by Tyson Krinke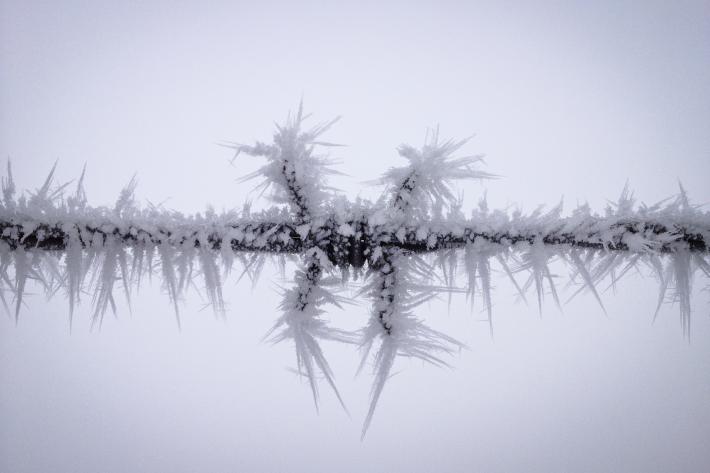 Date and Location:
January 27th, 2013
Coeur d'Alene, Idaho, USA
How this Photo Was Taken:
"It was a cold and blustery winter day in Coeur d'Alene as I went out to recess with the preschool children I worked with. As we got outside, to our surprise and delight, the entire playground was covered with some of the gnarliest hoar frost I'd ever seen. One side of our playground had a chain link fence covered in the frost. Way up high there was barb wire covering the top of the fence and it caught me eye. I noticed that Old Man Winter had decided to show this bar wire fence what barbs were really all about. I thought this was pretty cool and had to get a shot of this phenomena with my iPhone."
About Photographer Tyson Krinke:
"Photography is my license to explore and a chance to capture those little moments in life that prove it's worth living."
Follow Tyson:
Out of the Fog, by Luca Brüderlin
Date and Location:
October 8th, 2013
The Axalp, Brienz in Switzerland
How this Photo Was Taken:
"This picture was taken on the annual air show of the Swiss Air Force. The special thing about the show was that we had to walk two hours through the fog to get to the alps to actually watch the show. Shortly before reaching the place we were lucky enough to be above the fog. With the sun on my neck, enjoying the view on the sea of fog I took the picture of the approaching cablecar."
About Photographer Luca Brüderlin:
Follow Luca on Instagram at @luc_difratellino
Sunset 102, by Sharon Yencharis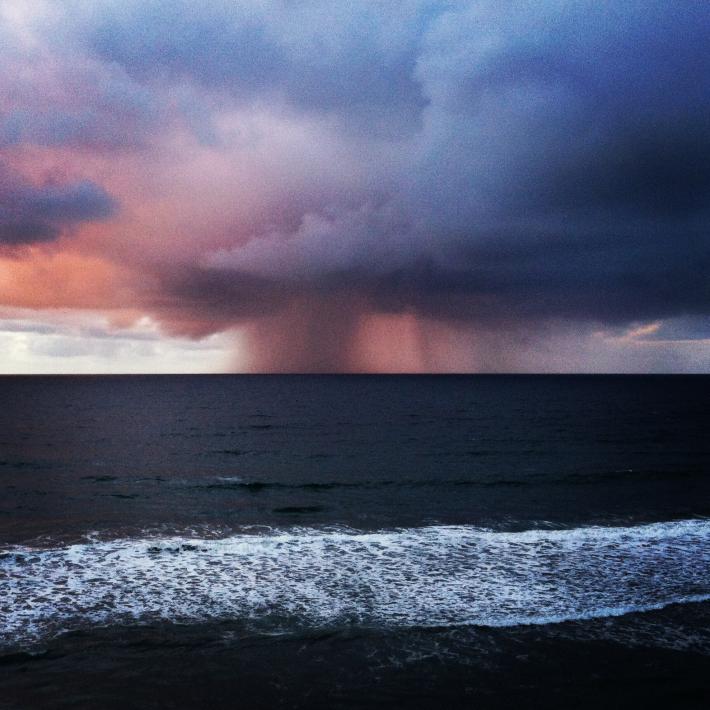 Date and Location:
January 6th, 2013
Just north of Moonlight Beach in Encinitas, California, USA
How this Photo Was Taken:
"In 2012 I had a goal of experiencing 100 sunsets so I followed up in 2013 and set out to complete the same goal. I would go out and take anywhere from ten to hundreds of photos of each sunset and this taught me to read the landscape and light. I have learned much about the way the sun sets in San Diego along the coast. We have so few days with clouds that when you see some, it's pretty amazing. You make it a point to go out and experience them. On the day I took this photograph there was a storm off the coast and you could see the rain and the sun setting, making the rain clouds glow. It reminded me of a painting I'd done a couple of years ago of a little sailboat sailing away from a storm towards the sun (https://bulamonsterpaintings.shutterfly.com/pictures/12)."
About Photographer Sharon Yencharis:
"I am an avid photographer, artist, writer and technologist. I created a mission statement for my life a few years ago that I would profoundly change the world, and I am. I am almost finished with my book on how to change the world, which includes a mathematical formula for happiness. It's all pretty simple actually.
My connections to NASA are several. My uncle worked there from the Apollo missions through the shuttle program and just retired a couple of years ago. His son, my cousin, works in mission control now. Also, my partner in all things fun is former astronaut Dan Bursch who has done several shuttle missions, including expedition 4 when he lived on ISS for 6.5 months."
Follow Sharon Yencharis:
'Brocken Spectre' from the Air, by Andrew Moore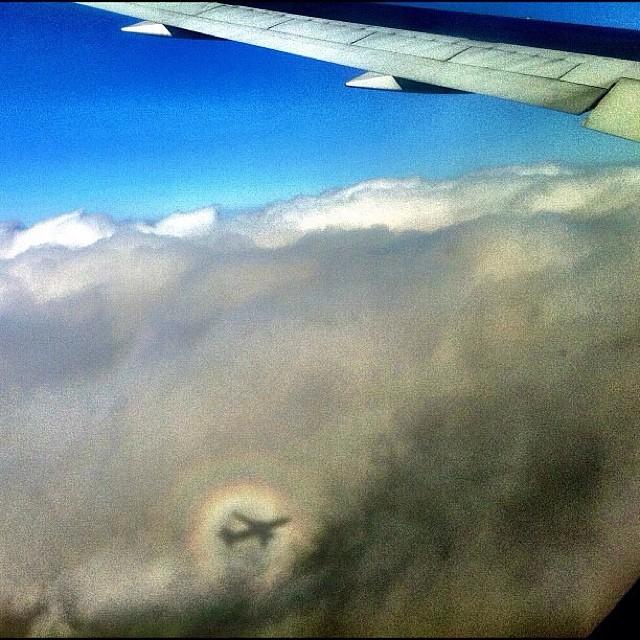 Date and Location:
October 18th, 2011
Taken on a flight from Melbourne to Sydney, Australia
How this Photo Was Taken:
"I was traveling with a colleague and sitting on the port side of the airplane with the rising sun on starboard. As we passed through some cloud banks we saw the 'Brocken Spectre' phenomenon both close to, and further away from, the plane. I knew it was called 'something' spectre and a Google search confirmed it upon landing. It made a fairly routine flight very memorable."
About Photographer Andrew Moore:
Follow Andrew on Instagram at: @ajpharma
Wind Blown Snow on a Window, by Donna Rae Moratelli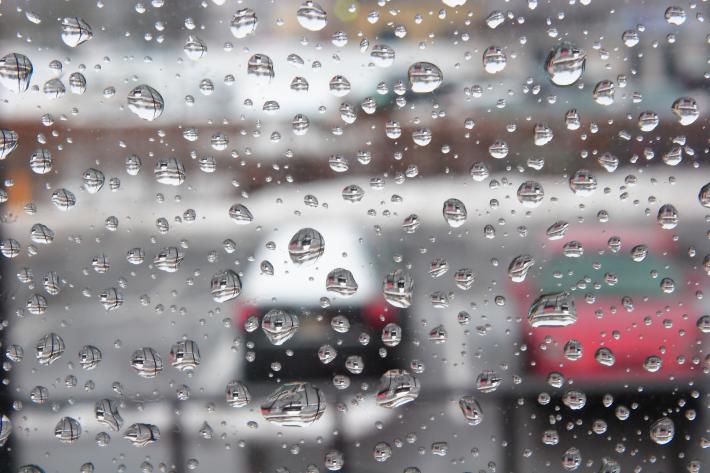 Date and Location:
February 10th, 2013
New Jersey, USA
How this Photo Was Taken:
"I was at a motel on the second floor in Central New Jersey and I could hear the wind and precipitation hitting the window. When I woke up, I opened the curtains and shades and to my surprise was a weather abstract in front of my eyes. I saw a clean window totally covered with wind blown snow that had melted on contact. It was beautiful. I love weather photography and shooting all types of weather photos,especially close-up abstracts and details.
I had my photo equipment with me and immediately set up my tripod and mounted the EOS 20D on it with a Canon 35-80mm lens attached. I set the exposure at f/22 +1/3 exposure to capture the entire window in crisp detail for this particular image. I shot a variety of images at different focal lengths and also used a wide angle lens but they turned out differently. I like this one the best at the 55mm focal length because it shows the background sharp and clear in each of the melted water droplets. The background is just a parking lot with some snow scattered about from the plows and a few cars with snow."
About Photographer Donna Rae Moratelli:
"I am a stock photographer who likes to shoot creative, simple, colorful abstract images. I love weather photography and science so I have tried to shoot and include this type of photography in my stock library. Photography has been something that has made me happy for over 20 years now. I have a website and gallery with all kinds of images including many weather, rain, snow, seasonal frames and also a variety of other subjects.
Examples of my photography can be found at donnaraephotography.com, and you can friend me on Facebook at https://www.facebook.com/profile.php?id=100000108115334A

I love science and photography so you'll be able to see all of what I'm about if you friend me there."