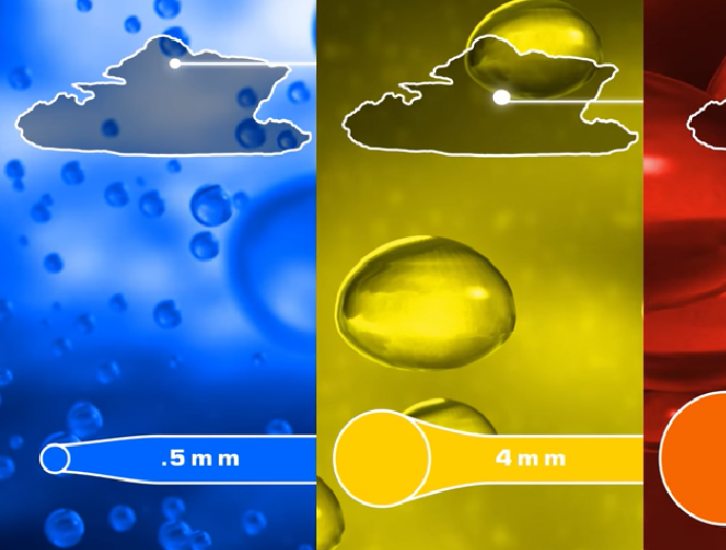 Top 5 GPM Research Highlights
Wednesday, February 20, 2019
GPM celebrates its fifth anniversary since launching from Tanegashima Island, Japan on February 27, 2014. This milestone not only marks the launch but also the many scientific research accomplishments that GPM has made in advancing our understanding of precipitation, from light rain to intense thunderstorms, to further our understanding of the water cycle.
Here are five of GPM's most significant research accomplishments and their contributions to weather and climate science in its first five years in space:
Snowfall and Cold Season Precipitation
An image of GPM's DPR concept of dual-frequency measurement of precipitation. High frequency channels of GPM's DPR enable the instrument to detect and measure falling frozen precipitation. Credit: JAXA/ NICT
Higher-frequency channels on the DPR and GMI were specifically added to the GPM-CO's design to detect and measure frozen precipitation. A reliable understanding of the amount and microphysical properties such as size, shape, and surface roughness of falling frozen particles is critical to investigation of the links between rainfall, clouds, and climate feedbacks. These instruments have revealed new insights into the intensity and microphysical composition of cold-season precipitation and regions of predominantly light mixed-phase and frozen precipitation rates.
Measurement of Drop Size Distributions

GPM's DPR ability to look through the clouds and characterize individual falling particles such as snowflakes. Credit: NASA SVS, Beautiful Earth: Snow.
Improving our knowledge and understanding of the distribution of the sizes of precipitation particles is key for the estimation of precipitation. Data collected from GPM's high sensitivity instrument, the DPR, was used to construct global databases of the drop size distribution (DSD), which has provided fundamental information associated with the formation and evolution of precipitation within weather systems.
Assimilation of GPM into Numerical Weather Prediction Models

The NASA Global Modeling and Assimilation Office (GMAO) began assimilating GMI radiances into their Forward Processing (FP) System. Credit: NASA's Min-Jeong Kim, Jianjun Jin, Will McCarty, Ricardo Todling, and Ron Galero.
With recently improved assimilation techniques, GPM data provide more accurate and frequent measurements of precipitation-affected microwave radiances and instantaneous precipitation rates that are utilized in multiple operational numerical weather prediction (NWP) forecast models to help improve weather forecasting. Specifically, the Japan Meteorological Agency (JMA) started GPM DPR assimilation in their regional forecasting system, which has resulted in significant improvements in rainfall forecasts. The NASA Global Modeling and Assimilation Office (GMAO) began assimilating GMI all-sky radiances into their global modeling and analysis system, which significantly improved the specific humidity in short term (0-72 hour) forecasts, with similar improvements in tropical middle and lower tropospheric temperature and winds.
Extension of Latent Heating Products
Elucidating the distribution and variability of latent heat release is critical to improving Earth system modeling and analysis. Due to GPM's near global coverage compared to its predecessor TRMM, data products that use GPM to obtain latent heating profiles were extended from the tropics to the mid- and high-latitudes in order to obtain latent heating profiles and provide insights into mid-and high-latitude weather systems.
Development of IMERG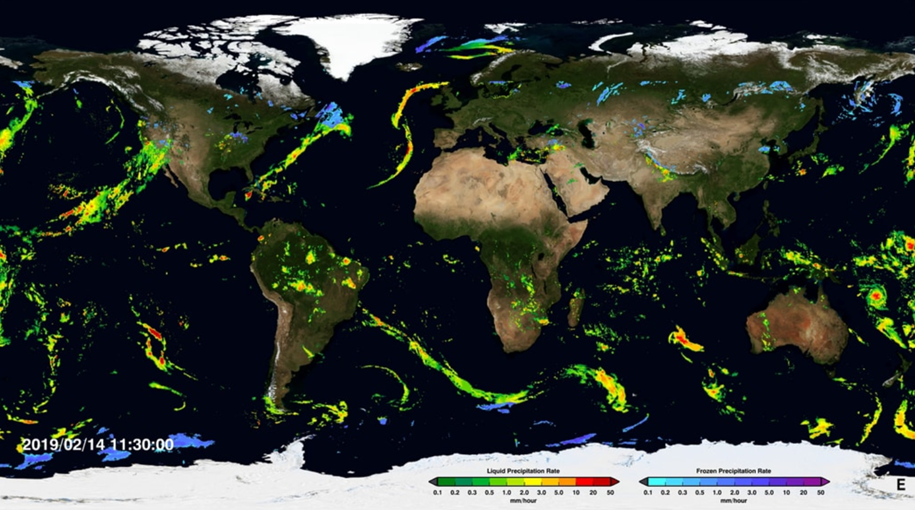 Example GPM IMERG map of global precipitation.
The Integrated Multi-satellitE Retrievals for GPM (IMERG), GPM's popular merged multi-satellite precipitation dataset provides high temporal and spatial resolution rainfall estimates every 30 minutes at 0.1⁰ (10 km) resolution from pole to pole. GPM's IMERG product is being used as an input for hazard assessment and forecasting for floods, landslides, fires, agriculture yield prediction, famine onset, and disease outbreaks, particularly in regions where adequate ground-based information is lacking.