Nor'easter
GPM Sees Fourth Nor'easter of 2018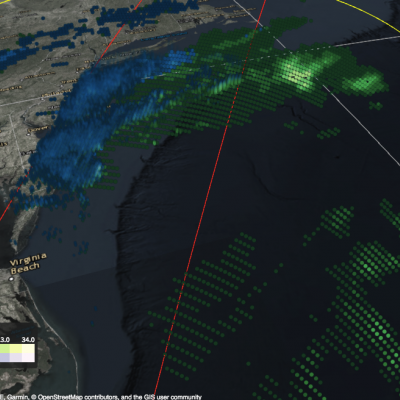 JacobAdmin
Thu, 03/22/2018
More than 90,000 customers were without power overnight after another major nor'easter — the fourth in three weeks — pummeled areas of the U.S. east coast with as much as 19 inches of snow on the first full day of spring. GPM collected this precipitation data as it flew over the storm the evening of Wednesday March 21st, 2018 at 6:04pm ET.
GPM Views Snow in Third Nor'easter of 2018
JacobAdmin
Tue, 03/13/2018
The GPM Core Observatory satellite flew over a powerful winter storm early on the morning of Tuesday March 13th, 2018, the third such "Nor'easter" to hit the U.S. east coast this year. GPM's Dual-frequency Precipitation Radar took 3D measurements as it flew over the storm, which show the boundary between liquid (green / yellow / red) and frozen (blue) precipitation. The storm is expected to last through most of Tuesday, disrupting road and air travel. Image and caption by Jacob Reed (Telophase / NASA GSFC
GPM Examines Snow in Destructive Nor'easter
JacobAdmin
Fri, 03/02/2018
GPM Catches Nor'easter over New England
JacobAdmin
Tue, 04/11/2017
At the time of the Global Precipitation Measurement (GPM) Core Observatory overpass (April 1, 2017, 0550 UTC), the storm's center of low pressure was south of Long Island. At the mid-levels of the atmosphere, the circulation was centered over northeast Pennsylvania. This led to a classic overrunning, warm conveyor setup, which happened when the counterclockwise low level flow drew in cold air out of the north/northeast (hence "Nor'easter") from Canada.
IMERG Measures Historic Rainfall With A Nor'easter and Joaquin
JacobAdmin
Mon, 10/05/2015
NASA's Integrated Multi-satellitE Retrievals for GPM (IMERG) data were used to estimate the historic amount of rain that fell during the past week in the Carolinas. A "fire hose" of moisture has been pumped into the Carolinas from hurricane Joaquin resulting in wide spread flooding. Over two feet of rain have been reported in South Carolina. This analysis indicated that major hurricane Joaquin also dropped over 700 mm (27.5 inches) in the Bahamas. Hurricane Joaquin has weakened from a category four hurricane in the Bahamas to a category one hurricane affecting Bermuda. Click here to see a