GPM Data Tracks Landslides in Bangladesh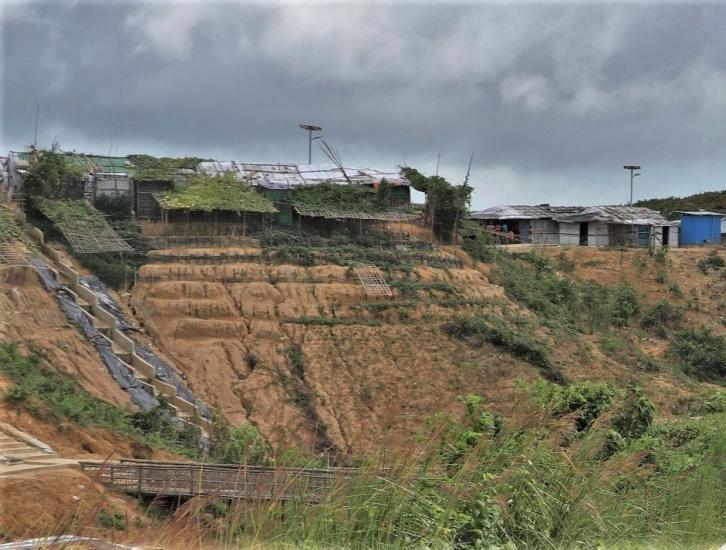 GPM Data Tracks Landslides in Bangladesh
Tuesday, November 19, 2019
Camp managers and other local officials overseeing Rohingya refugee camps in Bangladesh are now incorporating NASA satellite observations into their decision making in order to reduce the risk to refugees from landslides and other natural hazards. Information like daily rain totals can help inform how to lay out refugee camps and store supplies.
More than 740,000 Rohingya refugees have fled to Bangladesh since August 2017. Many of them have sought shelter in camps located in the hilly countryside, where landslide risk may be the greatest. Increasing this danger is Bangladesh's intense monsoon season. Approximately 80 percent of Bangladesh's yearly rain falls in just five months, from June to October, bringing with it an increased risk of flash flooding and landslides.
When these refugee camps were built in the southeastern part of the country, plants and trees were removed and their roots no longer helped to hold the soil in place. The soaked hillsides are at even greater risk of cleaving off with heavy rains. In July 2019, after 14 inches of rain fell in 72 hours, 26 landslides in Rohingya refugee camps in Cox's Bazar, Bangladesh, killed one person and left more than 4,500 without shelter.
"We have little information on landslides," said Hafizol Islam, who is in charge of one of the most densely populated camps of the Kutupalong mega-camp in Cox's Bazar, Bangladesh. "It is unpredictable for us and can happen at any time."
Now Islam and other camp managers have access to maps and a daily-updated website that provides near real-time NASA data on land use, rainfall and elevation from the Global Precipitation Measurement (GPM) mission and the Moderate Resolution Imaging Spectroradiometer (MODIS) instruments on NASA's Terra and Aqua satellites. Taken together, these maps and data provide a clearer picture of when and where landslide hazard is concentrated.
Read the full article on www.nasa.gov: https://www.nasa.gov/feature/nasa-data-helps-assess-landslide-risk-in-rohingya-refugee-camps