NASA Satellite Data Helps Decision Makers Improve Life Around the Globe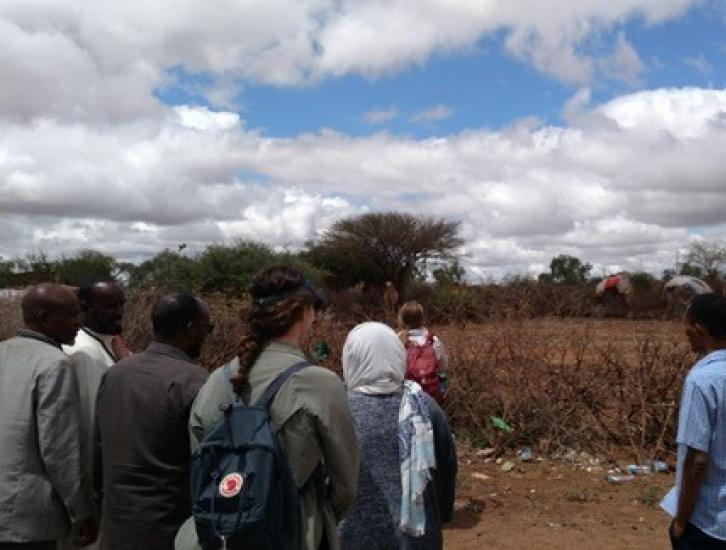 NASA Satellite Data Helps Decision Makers Improve Life Around the Globe
Monday, April 26, 2021
NASA's Earth observation data are used in a wide variety of ways to improve life for humans and other animals across the world every day. Our climate is changing, and these changes include differences in temperature and precipitation patterns around the globe. As you might imagine, these changes bring about both anticipated and unanticipated consequences that have a profound impact on people around the world. Many organizations are responding to the amazing yet complicated wealth of data that can be used to successfully monitor many aspects of our global environment. The World Resources Institute (WRI) is a successful example of a non-governmental organization (NGO) that is ingesting NASA Earth observation data as well as other data into their interactive data platforms.
WRI is a global research organization that works with more than 60 countries across the globe to enable them to develop sustainable solutions to critical problems. They focus on seven essential issues which lie at the intersection of environment and development: climate, energy, food, forests, water, cities, and the ocean. WRI's mission is "to move human society to live in ways that protect Earth's environment and its capacity to provide for the needs and aspirations of current and future generations."
To achieve this, WRI features a data platform entitled "Resource Watch" which leverages data, technology, and human networks. Resource Watch features hundreds of data sets, including many NASA Earth observations, to bring transparency on the current status of our planet's resources and citizens so that decision makers have the data they need to make informed decisions about the environment and the well-being of people across the globe.
The 2030 Agenda for Sustainable Development, sponsored by the United Nations, created a "call for action" by all countries to promote prosperity while protecting our home planet. The plan that was developed includes 17 "Sustainable Development Goals" (SDG) which, if enacted by 2030, provide a global blueprint for dignity, peace, and prosperity for people and our planet. WRI believes that this "integrated approach to global development, using data and analysis, technical tools and active engagement with influencers and decision-makers around the world" provides the key to ensuring environmental sustainability and improved human well-being.
Meet Liz Saccoccia, Data Analyst
Liz Saccoccia is a Global Precipitation Measurement (GPM) data end-user who works as a Research Analyst for WRI. As a Research Analyst and Resource Watch Data Team Lead, Liz spends her time between two projects.
She is a researcher with Water, Peace and Security, a partnership that pioneers the development of innovative tools and services that help stakeholders working in high-risk areas to identify, understand, and address water-related security risks. These risks occur due to the lack of freshwater resources to meet the needs of people's daily lives. The problem of "water insecurity" is growing around the world.  For this project, Liz co-created a machine learning model to predict conflict and is currently working on improving the model to understand the role of water in these conflicts, in order to ultimately use water as a solution to increase human security. 
GPM Data in the Resource Watch Platform
Liz leads the Data Team of WRI's dynamic Resource Watch platform. Data analysts such as Liz are responsible for prioritizing the most relevant and timely data to include on the platform, ensuring the data regularly updates through scripting and automation, and writing clear concise metadata. Metadata is defined as "data that provides information on other data". In today's world, there is access to such a huge array of information, thus understanding which information is going to be meaningful and useful for answering a researcher's particular question is a tremendous challenge. Resource Watch has invested a substantial amount of time in order to ensure that the metadata that accompanies each dataset accurately describes the data at an accessible level, and clearly details the constraints of each dataset to ensure that researchers will understand if it can be used to answer their question.
Using Data to Bring About Peace
Some of the work that she does involves pulling together data sets to assist researchers to help governments and other agencies respond to problems emerging as a result of climate change and human movement. With the Water, Peace, and Security Partnership she is focusing on how water can be used for solutions to decrease insecurity around the world. Liz works with partners in Netherlands to improve their conflict prediction models and to create causal models – ways to evaluate how important water issues are in contributing to these conflicts.  This sometimes involves researching available datasets or writing scripts to generate numbers from datasets.  Working with other analysts at WRI and partners, Liz and her team evaluate these different models and determine whether additional datasets, such as real-time data on changing reservoir levels, can increase their predictive power or causal understanding of conflicts.
Staying on Top of the Data
A large part of Liz's work includes staying aware of the most relevant datasets to add to the Resource Watch Data Catalog and managing the metadata processes. To write metadata, the team reviews very technical descriptions of data sets and translates them into something you might read in the New York Times newspaper. One of her biggest challenges is bridging the data literacy gap. Data sets can be quite complicated and there are generally some limitations when working with them. She needs to understand and translate these limitations to ensure any analysis that she does or advises others about is correct.
GPM data are used in many of the data sets which are available within the WRI data platforms and data library and integrated into the Resource Watch data and dashboards as Liz and her team strive to showcase the most relevant data for the thematic areas that they cover. For a wide variety of decisions, including where and when to anticipate and prepare for natural disasters such as landslides and forest fires, GPM data is included in the data platforms which have been pulled together to help monitor these natural disasters which have a huge impact on human life.
Landslides
Landslides threatened people and infrastructure in many locations. Resource Watch includes data on landslide susceptibility based on factors such as slope, deforestation, infrastructure, and precipitation. They show data users how they can overlay landslide hazard alerts from NASA's Landslide Hazard Assessment for Situational Awareness (LHASA) Model to see where the landslide susceptibility is greatest for the next 24 hours. As precipitation is a common trigger of landslides, the LHASA Model uses GPM and TRMM data. Here are examples of two of these data sets: near-real time landslide alerts and landslide susceptibility .
Forest Fires
Another example of the use of NASA's Earth-observing satellite data sets within the Resource Watch platform, as well as being used by the science writers for WRI blogs and feature stories, are related to the fires that took place in the Western part of the United States during the summer of 2020.  Several of the fire-related datasets in Resource Watch use NASA Earth observations; including the Global Visible Infrared Imaging Radiometer Suite (VIIRS) satellite-detected active fire locations and the Global Fire Weather Database (GFWED) data set; which combine different weather factors which may influence the start and spread of a vegetation-fed fire. THE GFWED data set includes GPM datasets, and this product is supported by the NASA Precipitation Measurement Missions Science Team and the NASA Group on Earth Observations Work Program.
In addition to making these data easily accessible, WRI also works to communicate current events to increase resilience and bring about awareness. A recent blog entitled "I've Worked on Climate Policy for 30 Years. Western US Fires Are the Scariest Thing I've Seen" was written by one of WRI's science writers about experiencing the fires in California firsthand. Part of Liz's job is to assist the science writers so they can effectively combine communication and data. Her role is to make sure the data is uploaded and to complete data analysis for journalists.
Take a look at "6 Graphics Explain the Climate Feedback Loop Fueling US Fires" to see another example of this data-driven science communication which uses data sets from many different sources to tell a more accurate and compelling story.

When asked how she finds new data sets to add to the Resource Watch platform, Liz replied,
"We are also always trying to evaluate our data gaps. For example, while looking for more information on fires this summer and fall, I came across some new data sets while finding news reports. I discovered NASA's "Burned Area Product" which uses MODIS data from two Earth observing satellites."
As our planet changes and our population grows, we work together across multiple agencies and with a variety of partners to ensure that we are able to use our satellite observations in coordination with other vital data to make informed decisions to improve life on our home planet. To learn more about Liz's work, please visit this StoryMap that delves deeper into her work as an early career scientist.
Learn More