GPM Eyes Eta Over Florida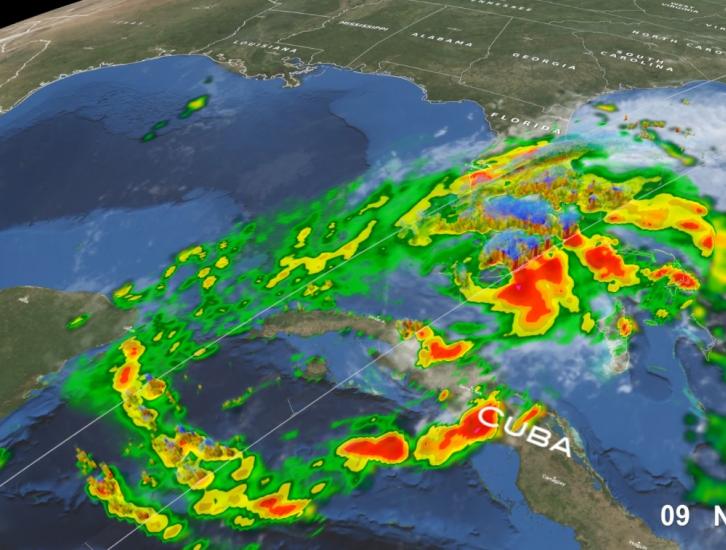 GPM Eyes Eta Over Florida
Tuesday, November 10, 2020
After striking the northeast coast of Nicaragua as a powerful Category 4 storm back on November 3, Hurricane Eta weakened rapidly over Central America but still brought major flooding and triggered numerous landslides that so far have resulted in at least 250 fatalities across the region, according to media reports. Eta was down to a tropical depression when the center re-emerged over the northwestern Caribbean on the evening of November 5. An upper-level trough over the Gulf of Mexico first steered Eta northeastward towards Cuba on the 6th. Because it was disorganized after its trek across Central America, it took time for Eta to respond to the still warm waters of the western Caribbean, but by the morning the November 7, Eta had once again reached tropical storm intensity. Eta crossed central Cuba on the morning of the 8th as a strong tropical storm before emerging over the Florida Straits. The same upper-level trough now began to draw Eta back towards the northwest in the direction of the Florida Keys.
This data visualization provides a detailed look into Eta courtesy of the GPM Core Observatory satellite, which overflew the storm at 11:41 p.m. EST on November 8  (4:41 UTC November 9), just after the center made landfall on Lower Matecumbe Key in the Florida Keys. Rainfall rates derived from the GPM Microwave Imager (GMI) and Dual-Frequency Precipitation Radar (DPR) show that Eta had a rather large but well-defined eye immediately surrounded by very heavy rain rates (shown in red colors) north and east of the center that are part of the eyewall. GPM also shows that the bulk of the rain associated with Eta was contained in several rainbands wrapping across the Florida peninsula well north of the center. Tall cloud towers associated with areas of deep convection (highlighted by the blue isosurface) detected by the DPR show where precipitation-sized particles extended upward within these thunderstorms that are fueling Eta's circulation. At the time of the GPM overpass, Eta was a strong tropical storm with maximum sustained winds reported at 65 mph by the National Hurricane Center (NHC).
After passing through the Florida Keys, Eta turned southwest and weakened slightly as a result of ingesting some drier air. The latest NHC forecast suggests that Eta could meander over the southeast Gulf of Mexico north of western Cuba for a day or so before drifting slowly northward towards the northern Gulf Coast.
Eta is the 28th named storm of 2020 which beats the 2005 record for the most named storms in a single hurricane season. 
Credits:
Story by Steve Lang (NASA GSFC)
Visualization by the NASA Goddard Scientific Visualization Studio