NASA Monitors Rain along Australia's East Coast and Central Desert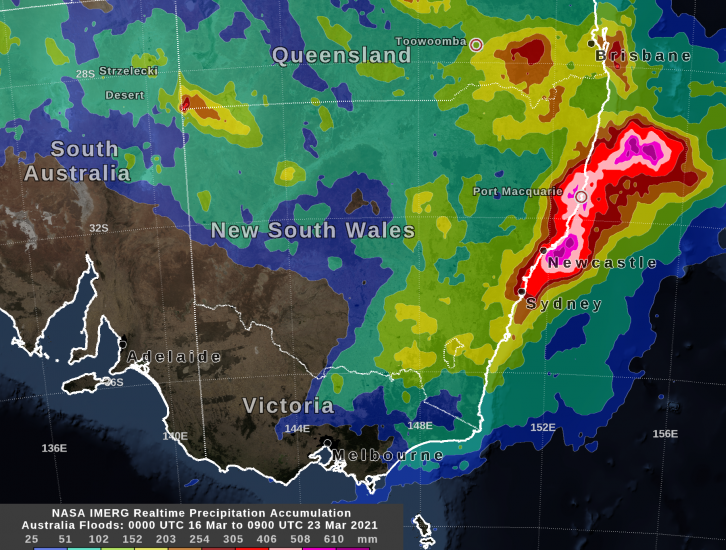 NASA Monitors Rain along Australia's East Coast and Central Desert
Tuesday, March 23, 2021
During the week ending on March 23, 2021, two locations in Australia experienced unusually high rainfall totals. According to news reports a persistent system brought flooding rains to Australia's east coast from Brisbane to Sydney and points further south.
The preliminary estimate from NASA's multi-satellite global precipitation analysis is that more than 24 inches fell just off the coast of Australia in 7 days with accumulations in coastal areas exceeding 16 inches.  Near the Strzelecki Desert in central Australia, a storm system brought 8 inches of precipitation during the same 7-day period.  Most of the rain fell during a 3-day period (0000 UTC on 20 March to 2359 UTC on 22 March).
These estimates come from the near real-time version of NASA's IMERG algorithm which combines microwave and infrared satellite observations with climatological datasets including rain-gauge observations. In addition to near-global coverage, another advantage of the IMERG algorithm is that it provides estimates covering approximately a 20-year period.  This long-term record allows for comparisons of current precipitation events with long-term averages.
According to IMERG records, the past week's rainfall accumulation along Australia's eastern coast is more than 25% of the average annual accumulation there.  The past week's rainfall accumulation near the Strzelecki Desert is greater than the average annual accumulation there.
Download video (right-click -> Save As)
The above animation of the same IMERG data shows liquid-equivalent precipitation rates (blue/yellow shading) and accumulations (green shading) at half-hourly intervals from March 16 - 23, 2021, overlaid on shades of white/gray from NOAA infrared satellite data which shows cloudiness.
Data from the Australian Bureau of Meteorology confirms at least the main conclusions from these IMERG observations. Central Australia typically receives only 4 to 8 inches (100 to 200 millimeters) of precipitation a year, while a thin band of land along Australia's eastern coast typically receives about ten times as much precipitation: 40 to 60 inches (1000 to 1500 millimeters) in a year.
In terms of 7-day storm totals, the Australian Bureau of Meteorology reports that there is a 1% chance each year of an event exceeding 498 or 177 millimeters (20 or 7 inches) of precipitation accumulation in Sydney or in the desert where New South Wales, Queensland, and South Australia meet.  The desert rainstorm during the week ending on March 23, 2021, exceeded this threshold, while the flooding over Australia's east coast did not.
Data Sources:
Credits:
Story & still image by Owen Kelley (NASA GSFC)
Animation by Jason West (NASA GSFC)