Precipitation Processing System (PPS) servers will be down for extended maintenance from Tuesday, September 22nd through Thursday September 24th. During this time the PPS websites, the PMM Publisher API, and the GPM research data server (arthurhou) will be unavailable. The GPM near real-time server (jsimpson) and satellite data collection will not be affected.
Click here to learn more.
PMM
PMM
Content which is not specifically affiliated with GPM or TRMM, but which is about the Precipitation Measurement Missions in general.
The GPM Microwave Imager (GMI) has a swath 550 miles (885 kilometers) wide, giving it a broad view of the extra-tropical cyclone observed off the coast of Japan on March 10, 2014. The GMI instrument has 13 channels, each displayed in this visualization of the data. Each channel is sensitive to a different frequency of microwave energy naturally emitted from or affected by precipitation. As depicted by the graphics, the five channels on the left are sensitive to heavy and moderate rainfall.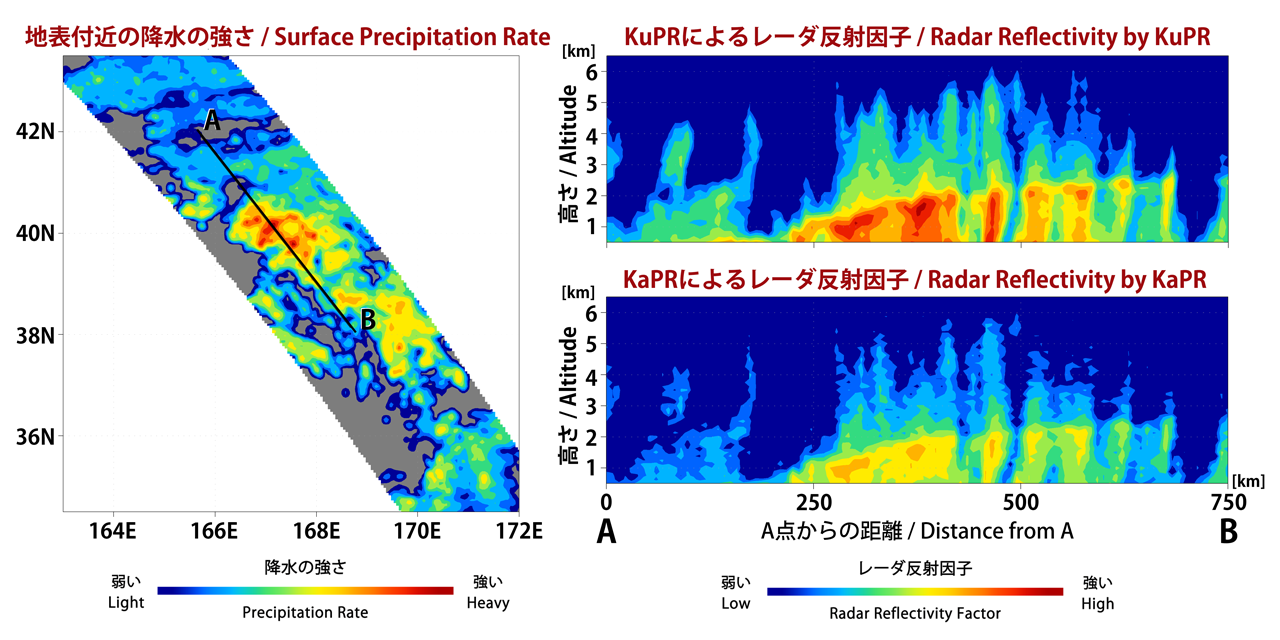 An extra-tropical cyclone was observed over the northwest Pacific Ocean off the coast of Japan on March 10, 2014.
The graph on the left shows the extra-tropical storm seen by the DPR as the satellite passed overhead. The x-axis is the east-west longitude and the y-axis is north-south latitude. The colors show the rain rate at sea-level, with more intense rainfall represented by red and lighter precipitation shown in blue.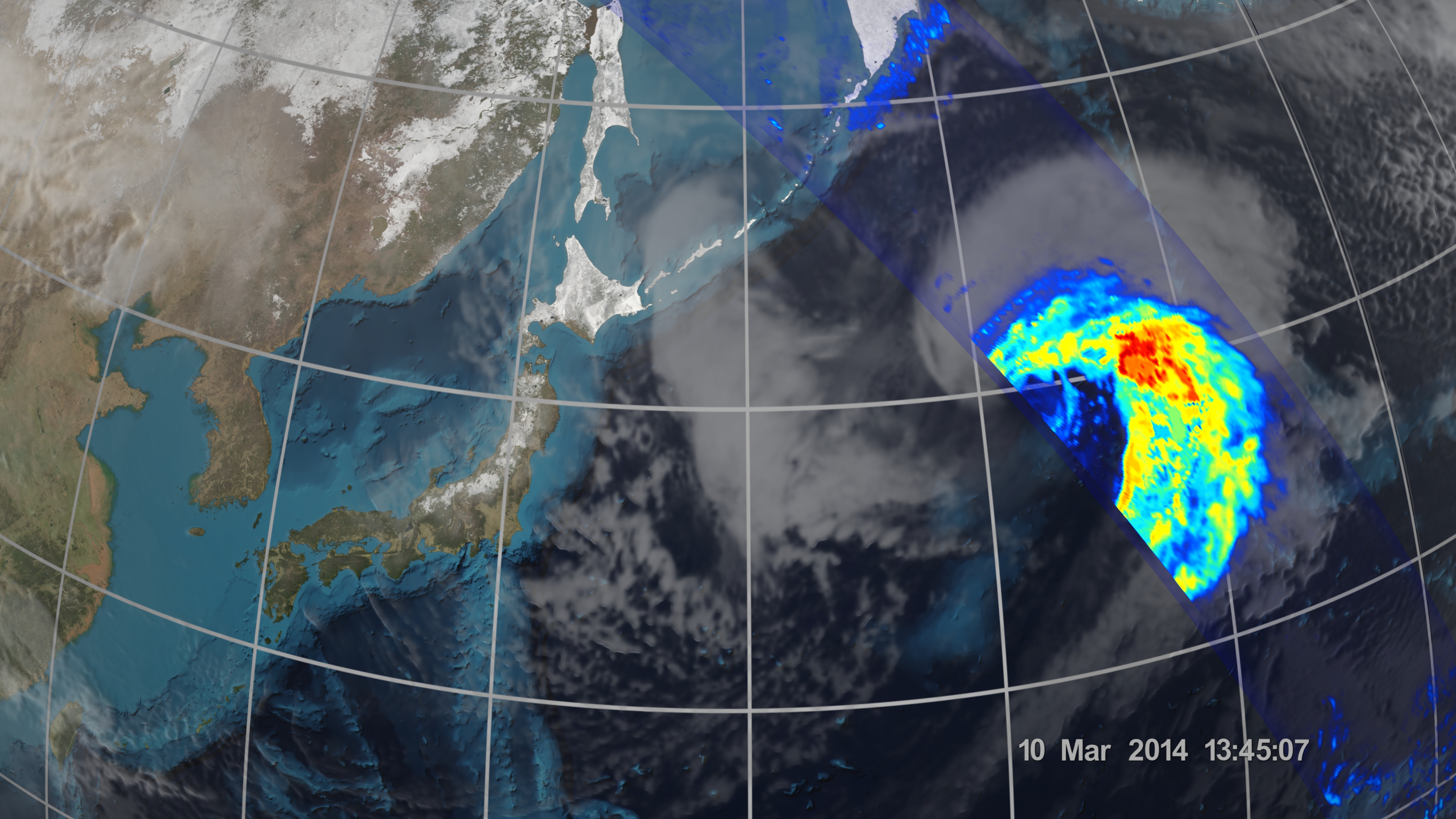 The storm formed from the collision of a cold air mass wrapping around a warm air mass, emerging over the ocean near Okinawa on March 8. It moved northeast over the ocean south of Japan, drawing cold air west-to-east over the land, a typical winter weather pattern that also brought heavy snow over Hokkaido, the northernmost of the four main islands. After the GPM images were taken, the storm continued to move eastward, slowly intensifying before weakening in the central North Pacific.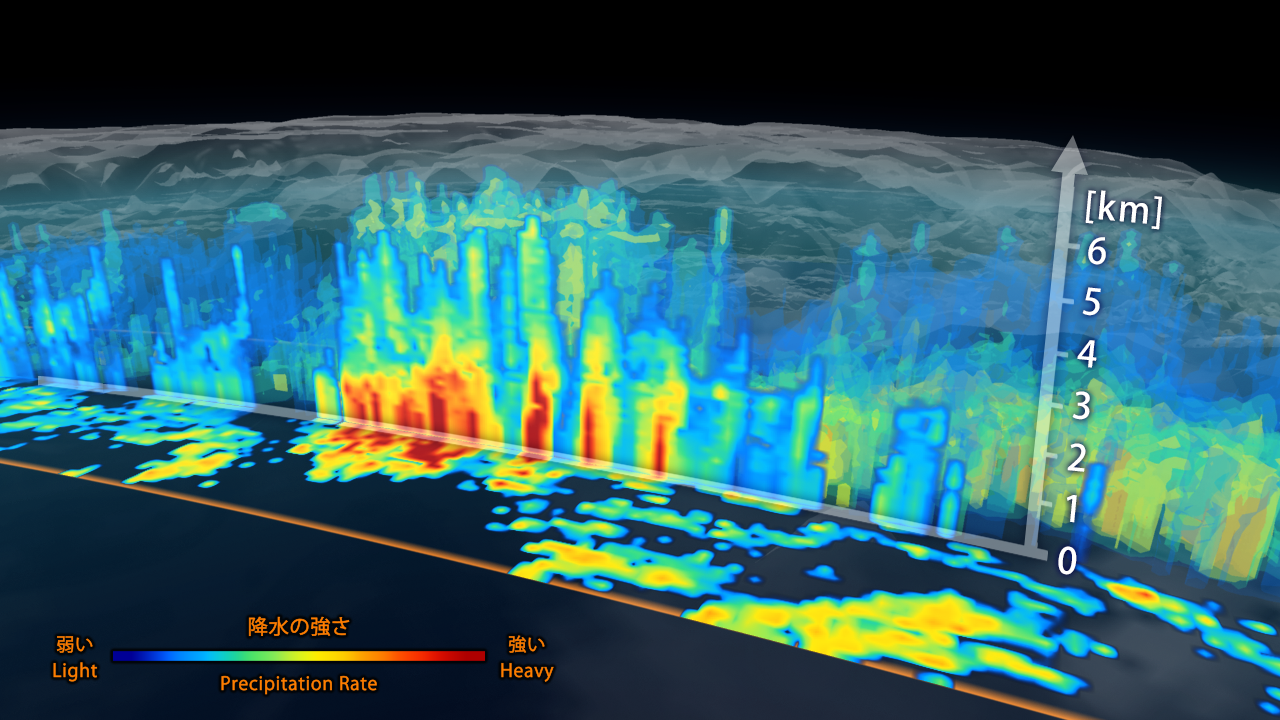 First data visualization of the three-dimensional structure of precipitation collected by the Dual-frequency Precipitation Radar aboard the Global Precipitation Measurement (GPM) mission's Core Observatory. The image shows rain rates across a vertical cross-section approximately 4.4 miles (7 kilometers) high through an extra-tropical cyclone observed off the coast of Japan on March 10, 2014. The DPR 152-mile (245 kilometers) wide swath is nested within the center of the GPM Microwave Imager's wider observation path.