GCPEx Blog Uncooperative Nature
Uncooperative Mother Nature
Walt Petersen is the Ground Validation Scientist for GPM, based at Wallops Flight Facility in Virginia. He manages all of GPM's ground validation operations including GCPEx, and today writes to us from the CARE site in Ontario.
---
It is January 23rd and once again Mother Nature has shown us what she thinks of our field campaign plans…..and our ability to plan and execute based on a prediction of what she will throw our way. Kind of bizarre really; we came up here to sample strong Canadian snow storms, and today we ended up targeting a heavy rain event. Of course, we can plan -- as we did -- but that doesn't mean things will work out the way one expects them to.
Based on our lead forecaster's expert input (it really is expert), numerous weather forecast models, and really, even my best shot at a figuring out what was going on, we planned to have both of our airplanes over the field site around 10:00 am this morning. I, the other Mission Scientist and the Operations Scientist were all in agreement about how today was going to progress -- consensus rule! The idea was that we would sample what amounted to a large rain event with both airplanes for a few hours between 10:00 AM and 1:00 PM. Timing was a virtual certainty.
Of course, rain is not really what we came up to Canada for, but this is what Mother Nature dealt us, and in the end it was still a great weather target for GPM Mission science. So, I show up at breakfast bright and early (well ok,…early) and start looking at the current radar and model products with my colleagues and am alerted to see that we have storms over the Great Lakes, some with lightning and radar echo tops (the highest point the radar can detect) over 25,000 feet high coming this direction -- in January, no less. Admittedly, this makes me a bit nervous as I actually had not prepared myself to guide aircraft in a thunderstorm environment (it is much more challenging; I just did this in another field campaign last summer). But, ok, I figure I can work with what we have here.
We notice the precipitation is moving in a little faster than forecast, but it still looks like we will be ok for our mission of the day. I then get a call from the DC-8 Mission Manager in Bangor, and he tells me that they have reports of moderate turbulence at 30-33000 feet -- something most airborne science folks really don't like. I tell him, yes, I saw that there were some embedded thunderstorms, but assure him we'll stay clear of those. He seems ok with that.
I then call the UND Citation Mission Manager to let him know we want to go as scheduled. He tells me that they have had freezing rain in Muskoka, where the airplane is based, and that the runways are iced up! We talk some more and my hope is that with a little warming and some runway work the runways will be cleared off by 10 AM when the plane is supposed to take off.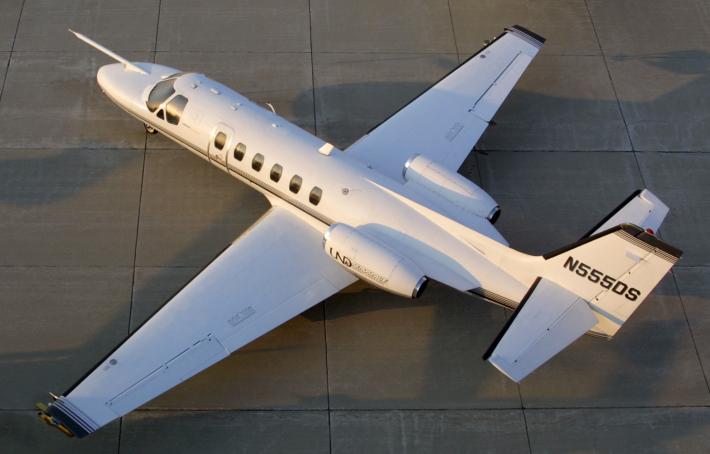 The UND Citation aircraft that takes precipitation measurements using microphysical probes as it flies through the clouds. Image from last spring's
MC3E
ground validation campaign.
Credit: NASA
We finish breakfast and head to the site. On the way we hear that all school busses in Muskoka have been canceled due to, you guessed it, freezing rain. Not good news -- and not the news we want to hear because that probably means things are no better out at the airport…..sigh.
We arrive on site, look at the radar and now it is very obvious that Mother Nature has accelerated the rain bands that we thought we would be ready for. Basically, they are already over the site, two hours before the first airplane would even arrive and are moving so fast that they would be gone by the time the DC-8 and Citation arrived and were set up on coordinated legs to do sampling. The forecaster's response: "If the weather model had a face, I'd punch it".
Ok- decision time. It's not hard. We quickly decide to cancel the aircraft mission and save the flight hours for a good snowfall event. Unfortunately it is now 8:30 AM and we expect the DC-8 to have his engines on, his doors closed and be backing out of the hanger in Bangor -- not the optimal time to cancel a mission. However, at the risk of raising the ire of the DC-8 Mission Manager, I take a chance and make a quick and anxious call to the DC-8. Luckily, I am able to reach the DC-8 and cancel the mission just before they pull out of the hanger. I then call the Citation and that takes care of standing down the aircraft.
So, now we focus our radars at the CARE site and King City on the rain event, sampling cold rain drops that seem more like slush-balls. This sampling worked out pretty well, thankfully.
I go home tomorrow after 10 days, having conducted only one airborne mission in a light to moderate snow event -- and in fact, have seen very little in the way of the hoped for white stuff. Hopefully Mother Nature will recalibrate before I come back in February!