Hurricane Eta Drenches Central America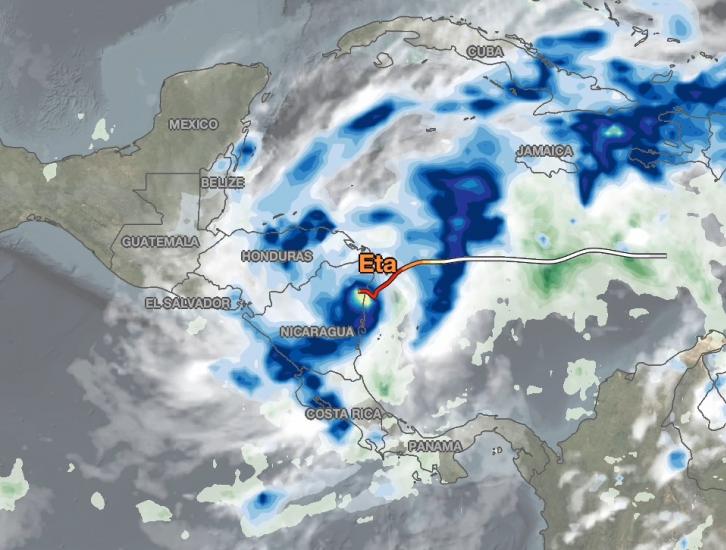 Hurricane Eta Drenches Central America
Friday, November 6, 2020
The extremely active 2020 Atlantic hurricane season, aided by the ongoing La Niña, continues on.  After Hurricane Zeta made landfall along the northern part of the Gulf Coast, yet another hurricane has arisen - Hurricane Eta, the strongest of the season.  Like Zeta, Eta also formed in the Caribbean, where sea surface temperatures are still running quite warm at around 29° C, almost a full degree above average and well above the typical 26° C needed for tropical cyclone development.  But while Zeta turned north into the Gulf of Mexico, Eta moved westward where it delivered powerful winds and flooding rainfall to parts of Nicaragua and Honduras.
Eta originated from a westward-moving tropical easterly wave that entered the far eastern Caribbean on the evening of the 29th of October.  As the wave made its way into the central Caribbean, shower and thunderstorm activity continued to increase fueled by the warm water there.  By the afternoon of the 31st, the system was deemed to have developed a closed low-level circulation by the National Hurricane Center (NHC), making it the 29th tropical depression of the season (TD #29).  The system was upgraded to a tropical storm that same evening and given the name Eta.  With warm water, low wind shear and a moist airmass, Eta was poised for strengthening.  Over the next 12 hours or so Eta slowly became better organized, but it wasn't until the afternoon of November 1 that Eta began to strengthen.  By late afternoon that day, the NHC reported that Eta's maximum sustained winds had increased to 70 mph, putting it just below hurricane intensity.  Early the next morning on November 2, Eta reached hurricane intensity.  At this time, Eta was located about 155 miles (250 km) east of the coast of Nicaragua and moving westward, steered by a ridge of high pressure to the north over the Gulf of Mexico.  It was also at this time that Eta began a cycle of rapid deepening with the central pressure quickly falling and winds quickly increasing.  Over a span of just 12 hours, Eta's maximum sustained winds went from 75 to 130 mph, making it a Category 4 hurricane.  Eta reached its peak wind intensity later that evening with sustained winds reported at 150 mph and its lowest central pressure at 923 mb (27.26 inches of Hg) just after midnight local time on the 3rd, making it the strongest storm of the season and the second most intense November hurricane on record.  
By now, Eta was just 40 miles east of the Nicaraguan coast but had slowed down and was moving slightly south of west, increasing the time till landfall.  As Eta approached Central America on November 3, it started to undergo an eyewall replacement cycle wherein a new eyewall forms outside of the original eyewall.  This process along with Eta's close proximity to land halted any further intensification as the storm slowly crept towards the coast.  Eta finally made landfall as a Category 4 hurricane near Puerto Cabeza, Nicaragua at around 4:00 p.m. CT, with maximum sustained winds reported at 140 mph by the NHC. As Eta pushed inland over northeast Nicaragua, it weakened steadily but continued to move rather slowly, increasing the threat of flooding and landslides. 
NASA combined data from multiple satellites in the GPM constellation to estimate the rainfall from Hurricane Eta in near real-time from November 1 - 6, 2020. This animation shows estimated 3-hourly rainfall rates in shades of blue and yellow, and estimated total rainfall accumulation in shades of green, using data from NASA's IMERG algorithm. The NASA data is overlaid with NOAA infrared satellite cloud data, shown in shades of white and gray. The multi-colored line shows Eta's track based on National Hurricane Center advisories, with yellow, orange and red indicating hurricane categories 2, 3 and 4, respectively.
Eta brought heavy rainfall to parts of Central America. Nicaragua and Honduras saw the highest accumulations, which exceeded 12 inches over the 6 day period in some locations, according to the IMERG estimates. The heavy rainfall from Eta caused devastating floods, landslides and multiple casualties, according to media reports. Current forecasts from the National Hurricane Center (NHC) indicate Eta will head northeast across the Caribbean Sea, threatening Cuba and Florida early next week.
The GPM Core Observatory satellite also passed directly over Hurricane Eta shortly after it made landfall in Nicaragua, capturing two- and three-dimensional observations of the structure and intensity of precipitation within the storm - click here to learn more.
Credits:
Story by Steve Lang, Jason West and Jacob Reed (NASA GSFC)
Animation by Jason West (NASA GSFC)