NASA, JAXA Prepare GPM Satellite for Launch
Monday, January 27, 2014
Watch the GPM L-30 Press Briefing on Youtube:
Part 1: GPM Mission Briefing
Part 2: GPM Science Briefing
---
The world enters a new era of global weather observing and climate science in February with the launch of the Global Precipitation Measurement (GPM) Core Observatory, a new international science satellite built by NASA.
GPM, a joint mission between NASA and the Japan Aerospace Exploration Agency (JAXA), is scheduled to launch Feb. 27 from Tanegashima Space Center in Japan. The observatory will link data from a constellation of current and planned satellites to produce next-generation global measurements of rainfall and snowfall from space.
The GPM mission is the first coordinated international satellite network to provide near real-time observations of rain and snow every three hours anywhere on the globe. The GPM Core Observatory anchors this network by providing observations on all types of precipitation. The observatory's data acts as the measuring stick by which partner observations can be combined into a unified data set. The data will be used by scientists to study climate change, freshwater resources, floods and droughts, and hurricane formation and tracking.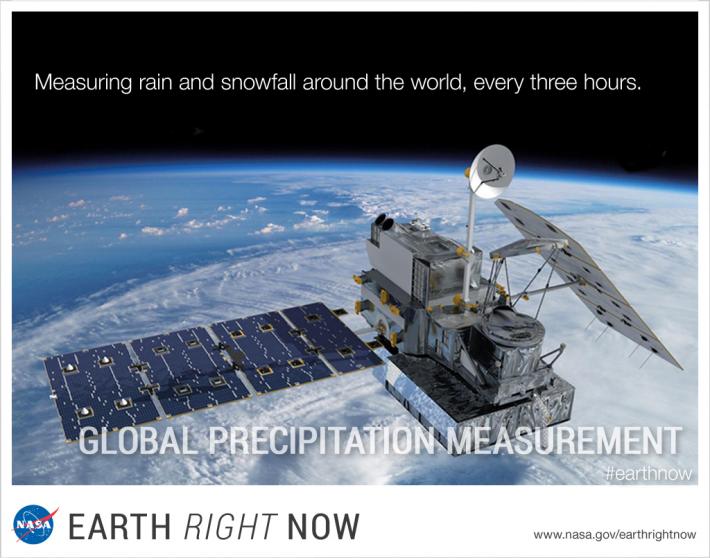 "The water-cycle, so familiar to all school-age young scientists, is one of the most interesting, dynamic, and important elements in our studies of the Earth's weather and climate," said John Grunsfeld, associate administrator for NASA's Science Mission Directorate in Washington. "GPM will provide scientists and forecasters critical information to help us understand and cope with future extreme weather events and fresh water resources."
The GPM Core Observatory will fly 253 miles (407 kilometers) above Earth in an orbit inclined 65-degrees to the equator. This orbit allows the Core Observatory to observe precipitation from the Arctic Circle to the Antarctic Circle at different times of day so it is able to observe changing storm and weather systems that behave differently during day and night. Normal operations will begin about 60 days after launch. Data will be downlinked through NASA's Tracking and Data Relay Satellite System to the agency's Goddard Space Flight Center's Precipitation Processing Center in Greenbelt, Md., where it will be processed and distributed over the Internet.
GPM's Core Observatory carries two instruments to measure rain and snowfall: the Dual-frequency Precipitation Radar (DPR), designed by JAXA and the National Institute of Information and Communications Technology in Japan, and built by NEC Toshiba Space Systems Ltd., Tokyo; and the GPM Microwave Imager (GMI), provided by NASA and built by Ball Aerospace & Technologies Corp. in Boulder, Colo. Together, these two instruments will collect improved observations that will allow scientists to better "see" inside clouds. In particular, they both provide new capabilities for observing smaller particles of rain, ice and snow.
"Knowledge of how water moves around the Earth system through precipitation is vital for monitoring freshwater resources," said Gail Skofronick-Jackson, GPM project scientist at Goddard. "The data from the GPM mission provides unprecedented measurements of global precipitation. The GPM Core Observatory will observe detailed characteristics of rain and snow systems that are also extremely important for improving weather and climate forecasts."
The DPR precipitation radar adds a new frequency with which to observe precipitation, allowing it to capture ice and light rain. It will return three-dimensional profiles and intensities of liquid and solid precipitation that will reveal the internal structure of storms within and below clouds.
The GMI is a microwave radiometer designed to sense the total precipitation within all cloud layers. In addition to collecting data on heavy to moderate rain, four new channels will be sensitive to light rain and snowfall, two types of precipitation that are especially prevalent in mountain regions and the higher latitudes over North America, Europe and Asia.
Together, DPR and GMI will provide observations on the size, intensity and distribution of raindrops and snowflakes. Scientists will be able to use this data to look at how precipitation behaves and influences weather and climate patterns. These patterns affect the distribution of fresh water around the world, impacting supplies for drinking water and agriculture.
The GPM Core Observatory, built by Goddard, will launch on an H-IIA rocket provided by JAXA. Mitsubishi Heavy Industries Ltd. is managing the launch.
GPM Core Observatory is the latest mission to support NASA's mission to monitor Earth's vital signs from land, air and space with a fleet of satellites and airborne and ground-based observation campaigns. NASA develops new ways to observe and study Earth's interconnected natural systems with long-term data records and computer analysis tools to better see how our planet is changing. The agency shares this unique knowledge with the global community and works with institutions in the United States and around the world that contribute to understanding and protecting our home planet.
For more information about NASA's Earth science activities in 2014, visit:
http://www.nasa.gov/earthrightnow
View the original www.nasa.gov press release:
http://www.nasa.gov/press/2014/january/nasa-jaxa-prepare-rain-and-snow-satellite-for-launch
​RELEASE 14-034