Dorian Stalls, Brings Heavy Rain to Bahamas
Dorian Stalls, Brings Heavy Rain to Bahamas
Wednesday, September 4, 2019
In addition to the powerful winds that have raked the northern Bahamas over the past few days, Hurricane Dorian's slow motion has brought very heavy rainfall to the islands as well. Dorian first formed into a tropical depression on the 24th of August about 800 miles east southeast of Barbados in the Lesser Antilles from an area of low pressure; the depression was quickly upgraded to a minimal tropical storm and named Dorian by the National Hurricane Center (NHC) later in the day. As Dorian made its way westward under the influence of a high pressure ridge to the north, it was held in check initially by easterly wind shear and then dry air. Still, Dorian was able to intensify slowly later the next day and evening. On the evening of Monday, August 26th, Dorian passed near Barbados with sustained winds of 50 mph before continuing on and passing over St. Lucia and entering the northeast Caribbean on the morning of the 27th. Once again, dry air was keeping Dorian from intensifying despite lower wind shear and warm waters. A weakness in the ridge of high pressure allowed Dorian to take a more northwestward track in the direction of the US Virgin Islands. At this time, Dorian began to respond to more favorable conditions and started to strengthen.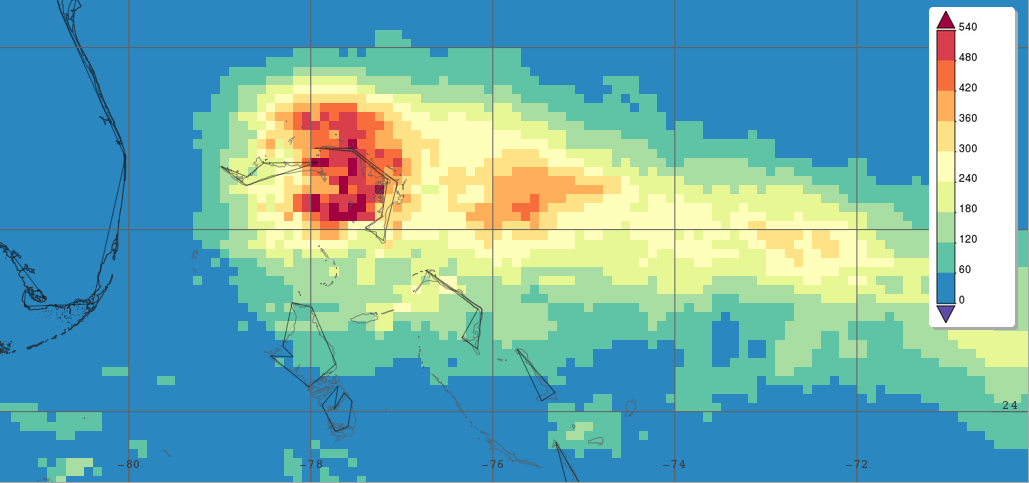 Surface rainfall accumulations (mm) estimated from the NASA IMERG satellite precipitation product from 00:00 UTC 30 August to 22:30 UTC 2 September 2019 in association with Hurricane Dorian. Image from NASA GSFC using IMERG data archived at https://giovanni.gsfc.nasa.gov/giovanni/. This image was produced with the Giovanni online data system, developed and maintained by the NASA GES DISC.
Early on the afternoon of Wednesday the 28th, Dorian finally became a hurricane while passing St. Thomas in the US Virgin Islands. After skirting just east of Puerto Rico, Dorian emerged back into the western Atlantic that evening and into a low wind shear environment over very warm waters setting the stage for possible rapid intensification. Still, a bit more dry air and the emergence of a double eye-wall structure inhibited Dorian's ability to intensify through much of the day on the 29th. However, later that evening Dorian became a Category 2 storm with sustained winds reported at 105 mph by NHC. But, an upper-level low off to the west produced southwesterly wind shear over Dorian, which again slowed intensification the next day. Then as this upper low pulled away, Dorian was free to intensify. By 8 pm EDT on the 30th, Dorian's central pressure was down to 950 mb and sustained winds were up to 125 mph, making Dorian a Category 3 hurricane; just a short time later the winds reached Category 4 intensity. By now, the ridge to the north had become re-established and Dorian was heading in a west northwest and eventually westward direction toward the northern Bahamas and the central coast of Florida. Through most of the day on Saturday the 31st, Dorian maintained its intensity as a powerful Category 4 storm, though the central pressure continued to slowly fall. Then, as pressures continued to fall during the morning of Sunday September 1st, Dorian reached Category 5 intensity at 8 am EDT with sustained winds of 160 mph and a central pressure of 927 mb. But Dorian was not done, as the center approached Great Abaco Island in the northern Bahamas, Dorian's central pressure continued to fall and the winds continued to strengthen even further. Finally, Dorian made landfall at Elbow Cay at 12:40 pm EDT with a central pressure of 911 mb and sustained winds of 185 mph, making it the second strongest storm in terms of pressure after the 1935 Labor Day storm, which struck the Florida Keys, to make landfall in the Atlantic Basin and tying the Labor Day storm as having the strongest winds at landfall. At about this time, Dorian was nearing the western edge of the ridge of high pressure that had been steering it westward, causing the storm to slow way down. Nevertheless, Dorian continued slowly westward hitting eastern Grand Bahama Island that evening at around 10 pm EDT with sustained winds still reported by NHC at 185 mph. The next morning on Monday, September 2nd, Dorian came to a standstill while passing over Grand Bahama, which resulted in not only a sustained period of Category 5 winds but extreme rainfall totals.
IMERG, the Integrated Multi-satellitE Retrievals for GPM, is a unified satellite precipitation product produced by NASA to estimate surface precipitation over most of the globe. With IMERG, precipitation estimates from the GPM core satellite are used to calibrate other satellite microwave and IR estimates. By merging the estimates from multiple satellites, surface precipitation maps can be produced half-hourly at 0.1o horizontal resolution. Shown here are IMERG surface rainfall accumulations covering the northern Bahamas for the period 00 UTC Friday August 30th to 22:30 UTC Monday September 2nd in association with Dorian. IMERG shows a large area of rainfall totals exceeding 420 mm (~16.5 inches, shown in darker orange) to 480 mm (~18.9 inches, shown in red) or more covering parts of Great Abaco and Grand Bahama.
So far, Dorian is being blamed for 5 fatalities in the Bahamas. As of midday Tuesday, the storm had weakened to a Category 3 hurricane and was finally beginning to move away from Grand Bahama Island. Dorian is forecast to remain just offshore of the southeast US coast before passing near to Cape Hatteras, North Carolina as it recurves ahead of a deep layer trough of low pressure over the eastern US.
Images & Text: Stephen Lang (NASA GSFC)