IFloodS Observes Severe Storm Outbreak
IFloodS Observes Severe Storm Outbreak
Friday, June 14, 2013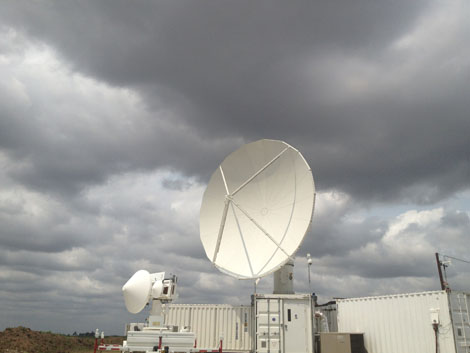 Development of low storm clouds in the atmospheric mixing layer over the NPOL and D3R radars on June 12, 2013 at ~12:00 p.m. CDT.
Credit:
Walt Petersen /NASA .
On Wednesday afternoon, June 12, a severe storm outbreak developed and moved across central and eastern Iowa, and then western Illinois, spawning huge thunderstorms and several tornadoes. NASA's Polarimetric (NPOL) precipitation radar, currently deployed in Iowa as part of the Iowa Flood Studies field campaign for the Global Precipitation Measurement mission, rapidly scanned these storms as they moved across the state.
NPOL capturing line of multiple supercells, some tornadic moving across Iowa on June 12, 2013 at 4:57 p.m. CDT, June 12, 2013.
Credit:
NASA
The NPOL radar observed numerous distinctive hook echoes in many supercells, one only 25 miles (40 kilometers) to the north. The "hook" feature is produced by rain, hail or other debris being wrapped into the mesocyclone of the storm and is historically considered a classic indicator for potential tornado-production. In fact, tornadoes were visibly confirmed in and near the towns of Belmond, Latimer and Hampton, Iowa to the northwest of NPOL.
NPOL radar image of Hook echo 25 miles (40 kilometers) north of NPOL at 5:25 p.m. CDT, June 12, 2013.
Credit:
NASA
The Iowa Flood Studies (IFloodS) experiment is a ground validation field campaign being conducted in advance of the 2014 launch of GPM Core Observatory to evaluate uncertainties in satellite retrievals of rainfall, and to find the best ways of using the satellite estimates in hydrologic applications related to flood prediction. The field campaign, which is taking place from May 1 to June 15, is a partnership between NASA and the Iowa Flood Center at the University of Iowa, Iowa City.
The NPOL radar and a second NASA radar deployed in the field, the Dual-Frequency, Dual-Polarimetric Doppler Radar (D3R) are managed by NASA's Goddard Space Flight Center out of the Wallops Flight Facility in Virginia.