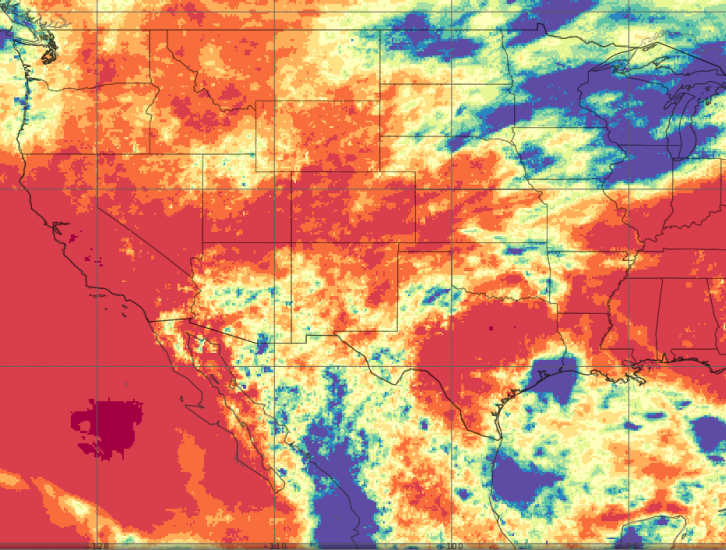 IMERG Sees a Dry September
Tuesday, October 22, 2019
Rainfall was scarce across much of the country in the month of September, pushing the eastern and southern thirds of the country into drought conditions. IMERG, the Integrated Multi-satellitE Retrievals for GPM, is a unified satellite precipitation product produced by NASA to estimate surface precipitation over most of the globe. With IMERG, precipitation estimates from the GPM core satellite are used to calibrate precipitation estimates from microwave and IR sensors on other satellites. By then merging the estimates from multiple satellites, surface precipitation maps can be produced half-hourly at 0.1o horizontal resolution. Shown here are IMERG surface rainfall accumulations for the month of September (1-30 September 2019) over the continental US, western Atlantic, Gulf of Mexico, and far eastern Pacific. In contrast to the upper Midwest, which received above normal amounts of rain, IMERG shows that vast parts of the country, including much of Texas, the Southeast, the Ohio Valley and areas east of the Appalachians up into southern New England as well as nearly of all of California, southern Nevada and Utah, Colorado, and western Kansas and Oklahoma received less than 25 mm (~1 inch) of rain (areas shown in red) for the entire month.
Surface rainfall accumulations (mm) estimated from the NASA IMERG satellite precipitation product from 1 to 30 September 2019 for the continental US, western Atlantic, Gulf of Mexico, and far eastern Pacific. Image from NASA GSFC using IMERG data archived at https://giovanni.gsfc.nasa.gov/giovanni/. This image was produced with the Giovanni online data system, developed and maintained by the NASA GES DISC.
IMERG also shows that plenty of much needed rain from a couple of tropical systems fell just offshore along the Eastern Seaboard. In the first week of September, powerful Hurricane Dorian, which after devastating the northern Bahamas, paralleled the East Coast and brushed the Outer Banks before heading up to Nova Scotia. And in mid-September, Hurricane Humberto paralleled the East Coast of Florida, although further out, for a while before turning sharply out to sea. Dorian did deliver some significant rains to the coastal Carolinas with upwards of 10" reported in isolated spots near the coast. Another area that received tropical rains in the midst of the drought was southeast Texas and southwest Louisiana where Tropical Storm Imelda came ashore on the 17th, bringing upwards of 2 feet of rain in localized areas, though most of the rain from Imelda was confined relatively close to the coast.
The US Drought Monitor shows that many of the areas shown in red by IMERG (i.e., that received less than ~1 inch of rain for September) are experiencing moderate to severe short-term drought conditions, especially Texas and areas East of the Mississippi and Ohio Rivers. Fortunately, long-term drought conditions are as of yet far less extensive.