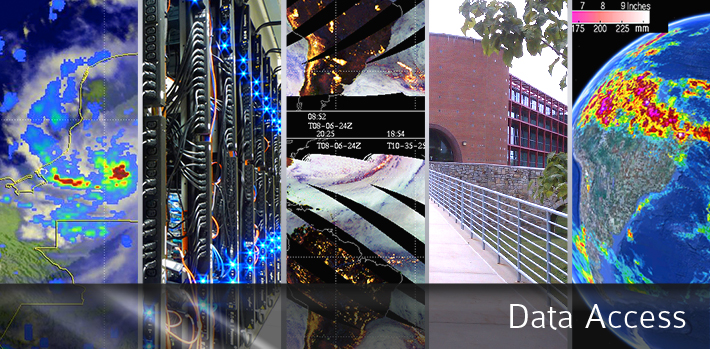 How to Access TRMM & GPM Precipitation Data
Precipitation data from the GPM and TRMM missions is made available free to the public in a variety of formats from several sources at NASA Goddard Space Flight Center. This section outlines the different types of data available, the levels of processing, the sources to download the data, and some helpful tips for utilizing precipitation data in your research.
If you still have questions after reading the FAQ, then you may contact us and we will do our best to assist you.
TRMM & GPM Data Policy
TRMM and GPM data are freely available at all levels for which the particular sensor or sensor combination has been processed by GPM. For the GPM Core Observatory this is for Levels 0 through 3 products (as applicable). For the partner satellites in the GPM constellation this is Levels 1c through 3 (as applicable).
Users are encouraged to access data from the primary TRMM and GPM archives (i.e. nasa.gov domains at Goddard Space Flight Center). When data from secondary archives are used, it is incumbent on the user to verify that the data values accessed are accurate, up-to-date, current-version copies of the original data. Data format questions should be directed to the relevant archive site, while science questions should be sent to the dataset developers.
Finally, dataset users are asked to report errors and difficulties in the dataset to the dataset creators using the contact form below.
Point of Contact
Data Access Frequently Asked Questions
Click here to view the full FAQ
Q: When will GPM data be made available?
A: GPM project data sets, including the Core Observatory and constellation partner sensor data sets, national data sets, including multi-satellite data sets, have been released to the public and are available for download now. Please click here to see a directory of GPM data products.
TRMM-era multi-satellite datasets (TMPA) have been reprocessed using the GPM-era IMERG v06B algorithm to create a continous record with the GPM IMERG mutl-satellite dataset covering June 2000 - present. The TMPA dataset will be discontinued on December 31st, 2019.
Please check our Data News page for the latest news and updates about GPM data products.
Q: What is the spatial and temporal resolution of GPM data?
A: The resolution of Level 0, 1, and 2 data is determined by the footprint size and observation interval of the sensors involved. Level 3 products are given a grid spacing that is driven by the typical footprint size of the input data sets. See the table of GPM & TRMM Data Downloads for details on the resolution of each specific product.
Q: How Do I Get Precipitation Data for my Specific Location?
A: There are several sources for downloading and viewing data which allow you to subset the data by longitude and latitude. These include the Simple Subset Wizard, the Precipition and Applications Viewer, Giovanni and STORM . In the new Giovanni 4 you can also now obtain data for a specific country, U.S. state, or watershed by using the "Show Shapes" option in the "Select Region" panel.
Q: Where can I find detailed documentation on the precipitation algorithms?
A: Browse our tables of GPM & TRMM data downloads to locate your desired algorithm, then click on the links in the algorithm description that say "Full Documentation".
Q: What will happen to the TRMM Multi-satellite Precipitation Analysis (TMPA / 3B42x) data products?
A: The TRMM satelilte has been decommissioned and stopped collecting data in April 2015. The transition from the Tropical Rainfall Measuring Mission (TRMM) data products to the Global Precipitation Measurement (GPM) mission products has completed as of August 2019. The GPM IMERG dataset now includes TRMM-era data from June 2000 to the present. TMPA propuction will end on December 31st, 2019. Click here for more details on this transition.
Q: What is the difference between "Realtime" (RT) and "Production" (Prod) data?
A: GPM data products can be divided into two groups (real-time and production) depending on how soon they are created after the satellite collects the observations. For applications such as weather, flood, and crop forecasting that need precipitation estimates as soon as possible, real-time data products are most appropriate. GPM real-time products are generally available within a few hours of observation. For all other applications, production data products are generally the best data sets to use because additional or improved inputs are used to increase accuracy. These other inputs are only made available several days, or in some cases, several months, after the satellite observations are taken, and the production data sets are computed after all data have arrived, making possible a more careful analysis.
Q: Where can I find climatology data?
A: The TRMM FTP has a Climatology directory which contains files in the TRMM Composite Climatology developed by Wang, Adler, Huffman, and Bolvin. A journal article on this topic is available here: http://journals.ametsoc.org/doi/abs/10.1175/JCLI-D-13-00331.1 . Pre-generated world maps of TRMM climatology data are also available here.
Q: Am I allowed to use GPM data for my research?
A: Yes, in line with NASA's general data policy. Please refer to the GPM Data Policy for further details.
Q: How do I give credit for using GPM data?
A: Click here to view our data citation instructions.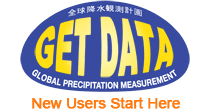 Use of the PPS FTP and STORM requires you to first register your email address. Click here to register.
QUICK DATA LINKS
DATA NEWS
Monday, February 24, 2020

Effective 1 June 2020, ftp will no longer be available on the NRT server jsimpson.pps.eosdis.nasa.gov Effective that date the primary access method will be ftps. A number of different ways to use ftps are available: 1. Python 3 ftplib...

Wednesday, January 29, 2020

Commencing today, Wednesday January 29, 2020, PPS is producing and releasing new satellite METOPC MHS GPM Level 1C and GPROF METOPC MHS GPM Level 2 and Level 3 data and Climatology Products V05. These new products will have the starting date...

Tuesday, January 28, 2020

As previously announced, with the recent release of the long-record V06B IMERG Early, Late, and Final products in late summer of 2019, processing of the TMPA-RT and TMPA products is ending, with December 2019 being the final month of data. This...

Wednesday, November 20, 2019

Difficulties with accessing NOAA CPC 4-km Merged Global IR data resulted in the loss of IR data in IMERG Early Run for 12 November 12:00-21:30 UTC and 14 November 10:00-15 November 10:30 UTC, and in IMERG Late Run for 12 November 12:00-20:30 UTC and 14...